What's Inside?
DISH CLOTH SCRUBBERS BY TOOCKIES IN INDIA
Made from durable and washable certified organic cotton and jute, Toockies Dish Cloths will stand up to tough pots, pans and countertops month after month. Handknit in India, these dish cloths are a sustainable alternative to commercially produced, disposable sponges that quickly break down. Simply throw them in the washer and dryer––they'll come out sparkling new and ready to tackle your next dinner party. Each set includes 2 dish cloths.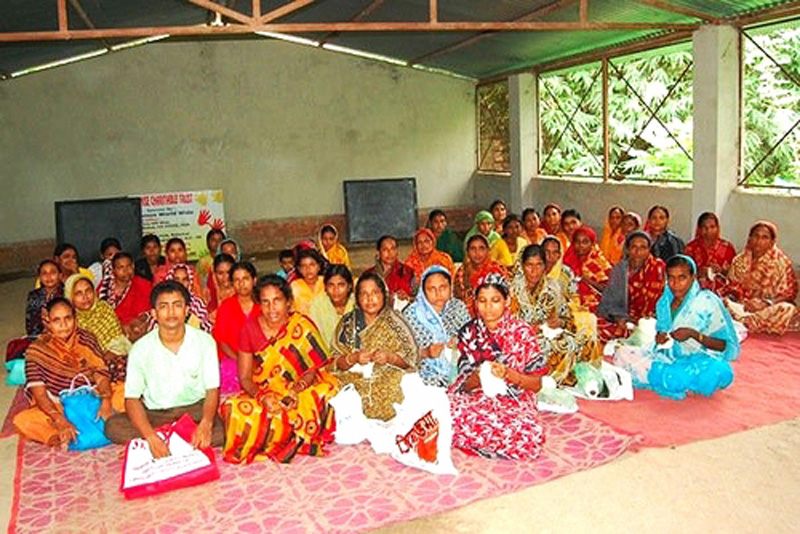 Anna Marie Stauss, founder of the Toockie Project, was first introduced to these dishcloths by a relative, nicknamed "Toockie", who knitted them for fun. Stauss found these dishcloths to be so much more durable than the cleaning products she bought every month. In an effort to give back to the world, as well as spread the Toockie love, Stauss partnered with a woman in India, Jaya Basu, who had been running her own non-profit at the time. Together, they established a way for women in India to support themselves and their families through learning how to hand-knit and embroider these Toockies. Stauss and Basu even created a community center for these women, where they can learn their trade and focus on their work. In creating Toockies, the women have developed a skillset that has allowed them to feel liberated and independent in their own lives.
MASCOBADO CANE SUGAR BY ALTER ECO IN THE PHILIPPINES
Known to the people of the Philippines as Islang Asukal, this traditional cane sugar is equipped with a range of rich flavors and completely untouched by the modern refining process. Organic, non-GMO, gluten-free, carbon neutral, and sustainably sourced, this sugar will give your cookies the perfect edge of deliciousness! This sugar is limitless in its uses: sprinkle on your yogurt, ice cream, latte, or even in your salad.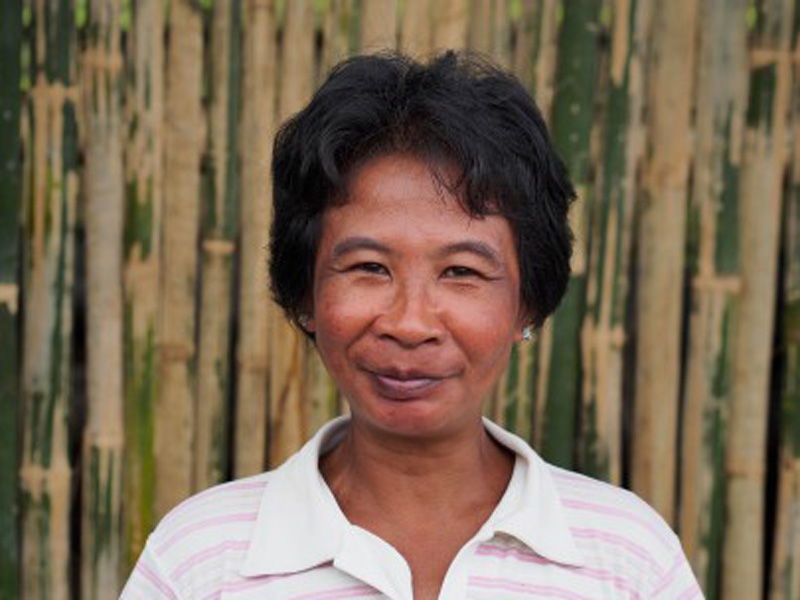 Adelina Magbuana, the farmer who helped to harvest this tasteful, unrefined mascobado cane sugar, lives on the island of Negros (AKA "sugar island") in the Philippines. She remembers a time before the Fair Trade model came into effect, when she and her family would cut down trees and burn land in an effort to create more space for the crops. Now, through the assistance of agro-technicians, Adelina has learned all about sustainable practices. Through this education, she creates crop diversity and often replants trees. Alter Eco partners with cooperatives such as ALTER TRADE, who work with 17 different farming groups and own two sugar mills in the Philippines. By implementing 100% Fair Trade and organic practices, Alter Eco helps farmers around the world to improve the quality of food and the quality of life.
BETTER WORLD BROWNIES BY JUST GOOD CHOCOLATE IN PERU
Organic, Fair Trade, and completely scrumptious, these brownies will be your favorite part of the dinner party. Cacao beans are considered extra-healthy when minimally processed. Rich in antioxidants, flavonoids and catechins, cacao has been listed as one of the top five brain health foods, showing promising effects in cognition and mood enhancement.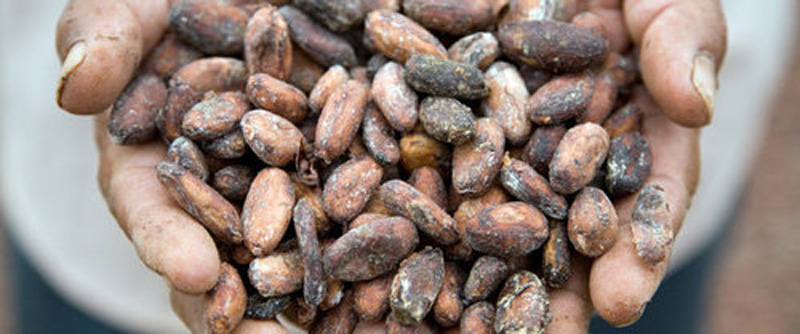 Made in Leelanau County of Northern Michigan, Just Good Chocolate has built its company on the principles of being just and good, a philosophy that supports socially and environmentally conscious business practices such as Fair Trade. Surrounded by the natural beauty of Michigan, Drew and Nichole, the founders of Just Good Chocolate, were inspired to create delicious edibles made from the bountiful Earth. The cocoa powder included in this brownie mix is produced from a blend of beans from the Oro Verde and ACOPAGRO cooperatives, both located in the San Martin province of Peru. With a long-term goal of establishing their very own organic, fair trade, wind and solar powered chocolate factory, Just Good Chocolate sets out to spread their wonderful philosophy to all the sweets lovers of the world.
COCONUT OIL POUCHES BY KELAPO IN SRI LANKA
Coconut oil provides a tasty alternative to butter in cooking, baking, and dozens of other uses. It's organic, cold-pressed, unrefined, vegetarian certified and has been used for centuries by the indigenous people of the South Pacific. Lauric acid, a medium chain triglyceride, comprises one of the main ingredients in coconut oil; it helps the body absorb important nutrients and minerals, eliminates harmful bacteria and keeps you looking young.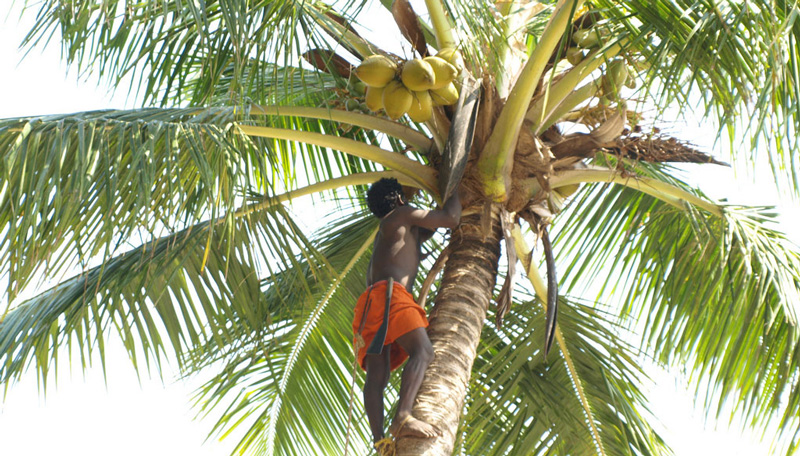 When Erin Meagher, a high school entrepreneurship teacher, started replacing her butter for coconut oil, she was so delighted by its versatility and health benefits that she couldn't stop using it. From this discovery, Erin decided to find certified organic farmers to harvest and extract the highest quality coconut oil so that she could start a business centered around such a valuable and useful commodity.
BEESWAX BIRTHDAY CANDLES BY BIG DIPPER WAX IN CANADA
Your birthday cake will be so much better by blowing out your wishes on these beeswax candles! These candles are locally sourced, biodegradable, compostable and don't undergo any chemical processing. Even better than that, burning these candles produces negative ions (charged molecules) that will boost your level of energy and reduce stress.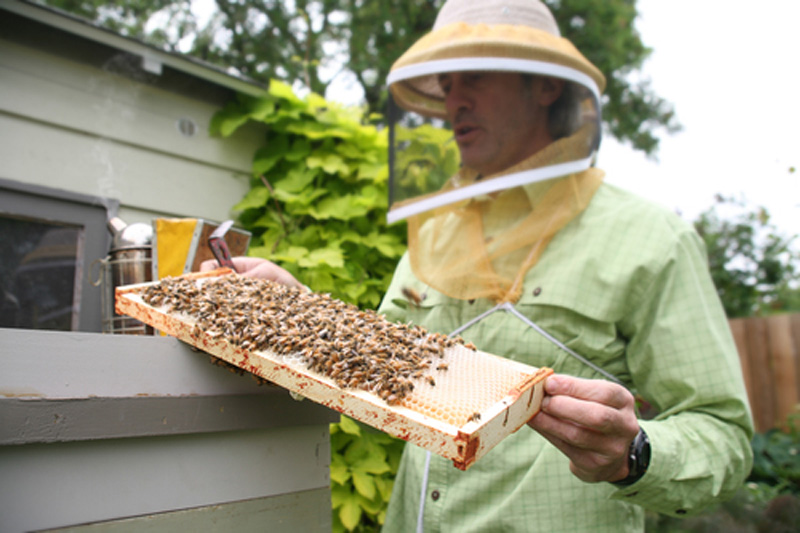 As a Green America Approved Business, Big Dipper inspires ways of using Earthly elements to create a natural source of light. In an effort to ensure healthy ecosystems for years to come, Big Dipper supports its customers, beekeepers and bees by donating to various grassroots organizations involved in sustaining these healthy beekeeping communities. Big Dipper sources its beeswax mainly from British Columbia, a region that ranks lowest in exposure to pesticides and highest in beeswax quality. While they currently source 25% of their wax globally, the company hopes to expand its resources to pursue Fair Trade partnerships with beekeepers in foreign countries.
PALM LEAF BASKET BY MARTINA GARCIA IN OAXACA, MEXICO
This traditional "tenate" basket is made from discarded palm leaves by indigenous Oaxacan artisans and colored using natural, water-borne paints. Each basket can take up to 6 hours to weave. Baskets measure 6 in. diameter x 5 in. tall. Basket and lid nest together for closure.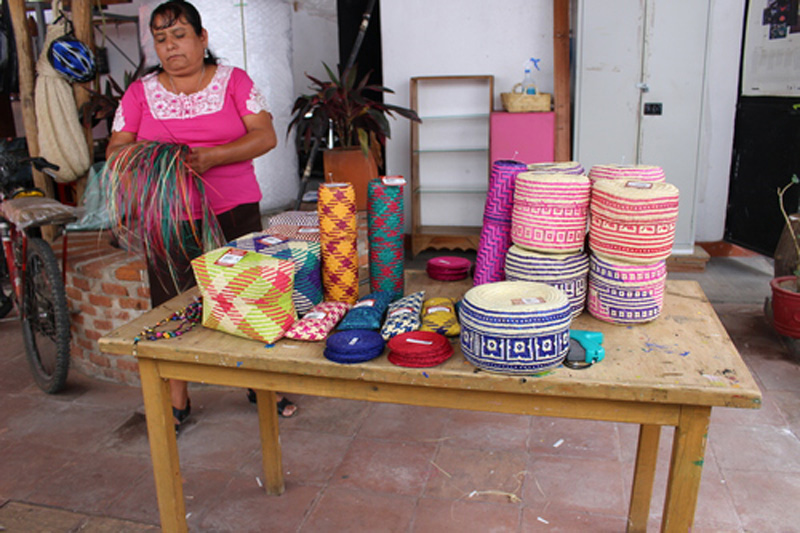 Martina learned to prepare and weave palm at the age of six. She started by making small wallets and basket covers to help her aunt, who eventually taught her to create all the items she now sells. As her mother used to say, "What you learn well once, you never forget."
Originally from Ocotlán, a rural village in the southern mountain region of the state of Oaxaca, Martina is a hard-working, energetic woman. She moved to the city with her husband and three children 17 years ago in order to find work. As her children grew up, Martina worked domestic jobs to make ends meet. A few years later, she began to revisit her old craft of palm weaving, which eventually created a great change in her life. The most difficult situation she encountered was not finding a place to sell her work. Now, with her sales through GlobeIn, she is able to rent a place to sell her products and dedicate time to creating these pieces.