What's Inside?
Marquet Fair Trade Scarf from Thailand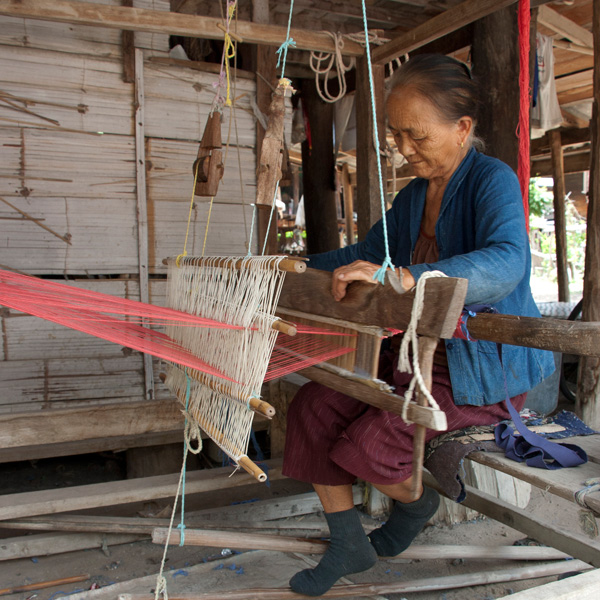 Sure cities are fertile ground for entrepreneurship, but what about networks of villages whose residents are connected through common knowledge of craft techniques practiced in their region for generations? The Thai government's One Tambon One Product program fuels such entrepreneurship, encouraging artisans throughout clusters of villages known as tambons to come together to work on a traditional craft.
Mrs. Sunthong, a member of the Ton Fai, or "Cotton Tree" artisan group, weaves products on a traditional hand-built loom using 100% locally-grown cotton. Whereas many rural Thai are forced to leave their families and seek work in the city to earn a secondary income, the weavers work on their craft between harvesting and planting season, integrating it into their farming lifestyle. Picture your scarf being woven by neighbors working together against the backdrop of their idyllic mountainside home.
Suggested use:Wrap around your neck to warm yourself up, or throw over your shoulders as a shawl to add some texture to your outfit.
Divine Chocolate Cocoa Powder from Ghana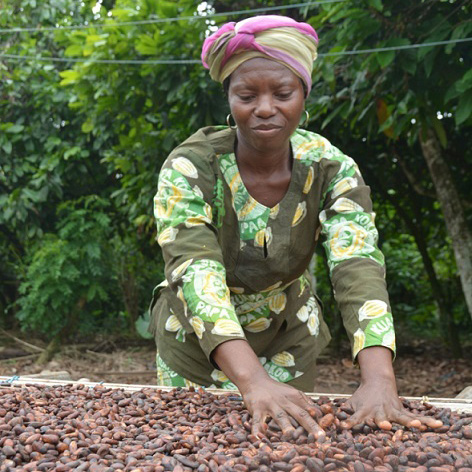 Divine Chocolate is co-owned by Kuapa Kokoo, a cocoa-growing cooperative in Ghana whose 85,000 farmer members get a share in the profits, a say in the company, and a voice in the global marketplace. Literally "good cocoa growers," Kuapa Kookoo seeks to empower farmers in their efforts to gain a dignified livelihood, develop environmentally-friendly cultivation of cocoa, and increase women's participation.
Margret Fianko (photo taken by Divine Chocolate) has been a member of the co-op for 13 years. Having never gone to school, Margret is learning numeracy and literacy through a program managed by Kuapa and using her new skills to manage money in her market stall. She hopes to one day be elected as a Kuapa recorder—someone responsible for buying cocoa from other Kuapa members.
Suggested use:Try one of the recipes we have included in the back of this booklet!
Le Souk Ceramique Mug from Tunisia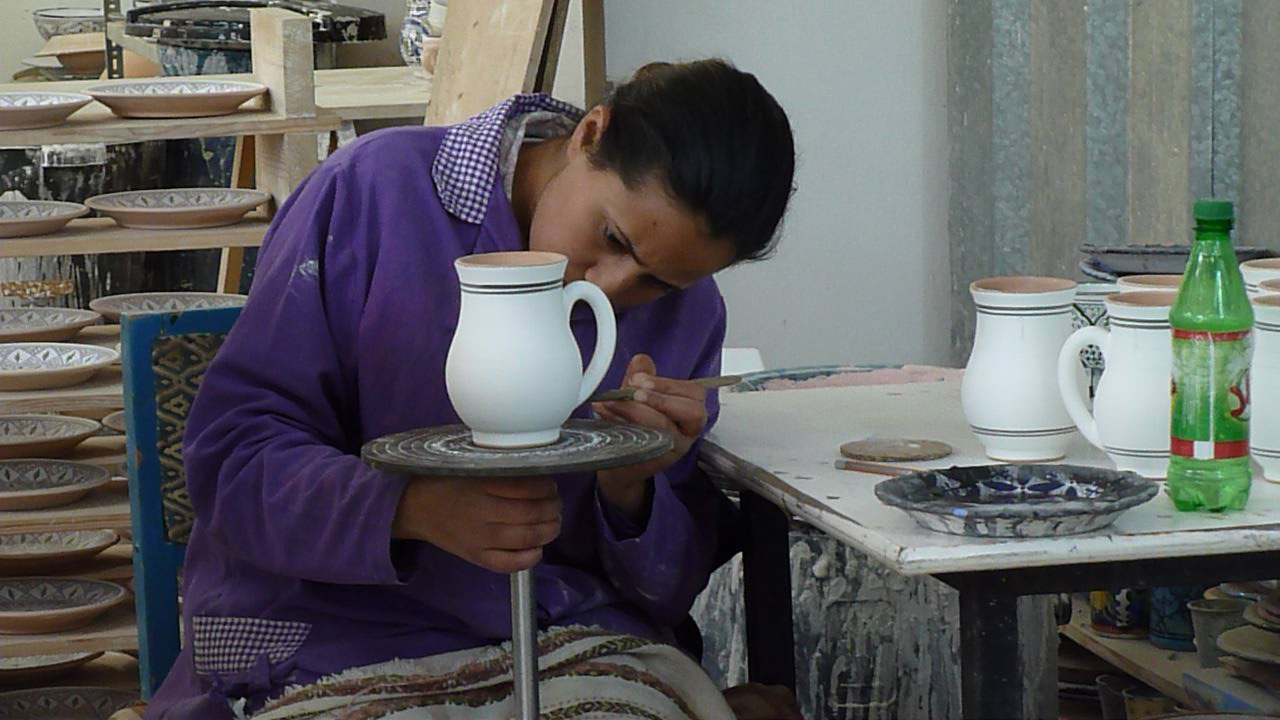 Your mug comes from Nabeul, a city on the Mediterranean coast of northeastern Tunisia and the center of Tunisian pottery. Many of the artisans who handpainted your mug have been working for Le Souk for years and their collaborative process has become a familiar dance.
The creation of your mug went something like this: Mokhtar manned the potter's wheel, and Hichem painted the top and bottom lines of the mug and set the outline. Riadh then painted the honeycomb/seashell design, and Zouhaira and her teammates Olfa and Faten took turns adding in the dots of color. Finally, Ahmed painted the rim's black border and Noureddine dunked the mug into a glaze to finish it.
Your mug's skillfully painted lines evoke the air of peace, prosperity, and teamwork embodied by modern Tunisians. Enjoy!
Suggested use:Get creative with your hot drinks! Try steamed milk with honey...
GlobeIn Palm Leaf Basket from Mexico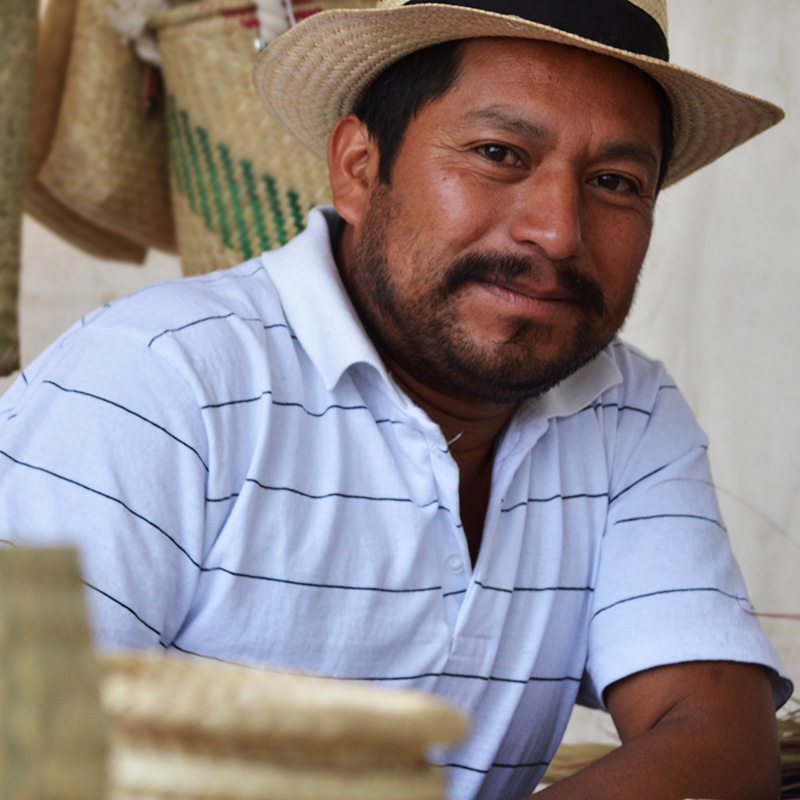 Five hours from Oaxaca, in the town of San Pedro Jocotipac, Don Juan García and his family of artisan basket weavers sit together for hours a day weaving. With a dexterity passed down through generations, ancestry come to life in the tireless work of fingers, they fashion the palms into vibrant, multi-colored baskets.
Don Juan and his family produce about 800 baskets per month. He then transports the baskets to Oaxaca where they are picked up by Marina Lopez, who coordinates with GlobeIn.
For the people of the Mixteca region, as this part of Mexico is known, basket-weaving is a way of life that also sustains life. Thanks to the money earned through collaboration with GlobeIn, Don Juan has increased his production and is saving to become a small business owner.
Suggested use:Pay it forward—use your baskets as gift boxes for friends and save on wrapping paper.