What's Inside?
NEEM WOOD SPICE BOWL - INDIA, THE VILLAGE EXPERIENCE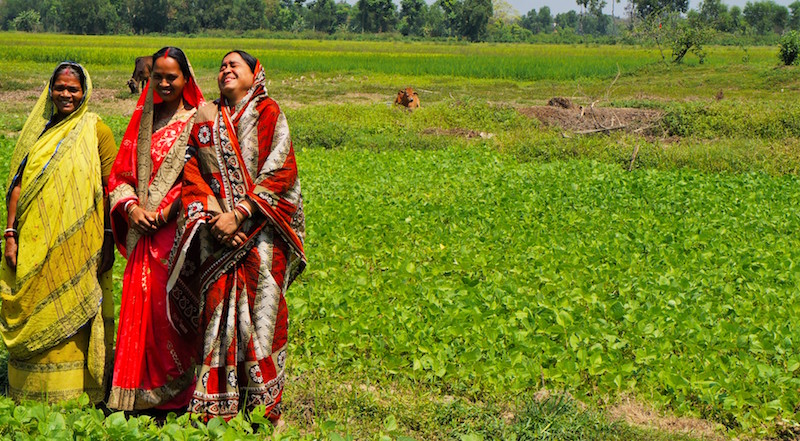 Your new spice bowl hails from India, heart of the ancient spice trade, famous for those exotic fires—ginger, cinnamon, and turmeric. These days, The Village Experience seeks to tap into contemporary avenues of international trade as a means of uplifting impoverished communities and especially women in the developing world.
Rabindranath and his wife Nila are two artisans at the helm of the West Bengal woodcarving community that fashioned your new bowl. Situated in a low-lying delta, this largely agricultural region has been hit hard by climate change. Traditional woodworking skills have become more important than ever in supplying vital income. By working with The Village Experience, and specifically as a result of GlobeIn's large order, this community has seen a 23% increase in revenue over the past year.
Suggested use: Make cooking easier and tastier by mixing a spice blend before starting and keeping it the ready as you go.
KITCHEN TOWEL - TURKEY, ARK OF CRAFTS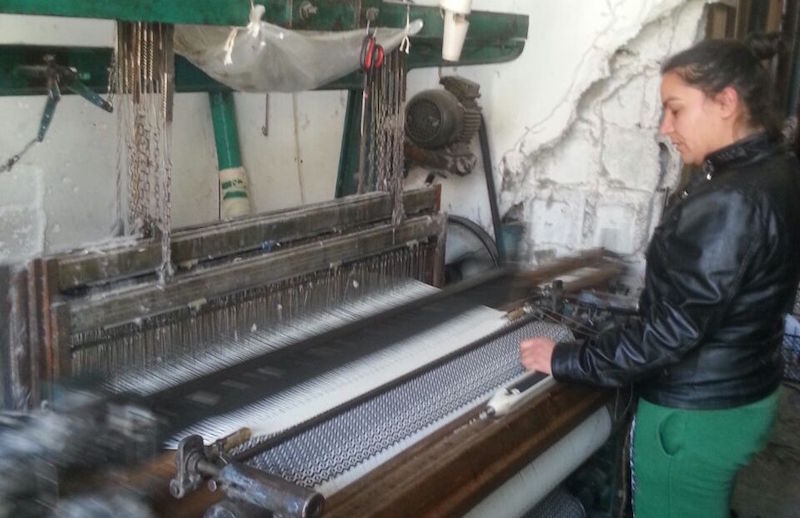 Historically, the town of Buldan, where your towel was woven, has boasted production of the finest hand-loomed cottons in Turkey. In the Ottoman period, resident weavers were tasked with weaving the outfits of sultans. Even today, almost every household contains a loom.
Traditionally, only men work at the hand looms, while women create the towels' fringes, yet Hatice is a rare case of a woman who has mastered the craft. She is 36 years old and supports her family with the money earned through her trade.
Hatice is a member of Atlas, a growing organization of weaving families in Buldan. Membership with Atlas enables weavers to earn a living while keeping a deep cultural tradition alive and sharing it with the world—and with your kitchen!
Suggested use: Polish off those dripping dishes and call it a night.
ILOCANO ASIN SEA SALT - THE PHILIPPINES, XROADS PHILIPPINE SEA SALTS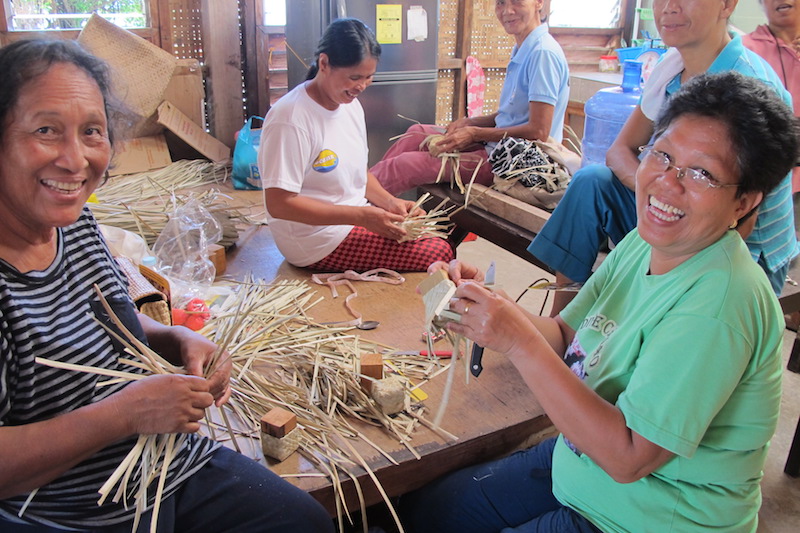 Just a dash of salt, and suddenly your food has so much more to say! A vital mineral for the body, salt adds the exclamation point to any dish, emphasizing every nuance of flavor.
Yet, as founder of roads Philippine Sea Salts points out, not all salt is created equal. Known as Ilocano Asin, your new sea salt was harvested from the pure seawaters off the island of Luzon by traditional salt farmers, or asinderos. Unlike highly processed generic table salts, the hollow crystals of this hand-crafted product offer a crunchy texture, while their flakiness melts bright mineral wealth crisp to the tongue into food.
Leaves of the romblon plant, woven by a network of women weavers on the tiny island of Cabilao, form the durable and eco-friendly box housing your new asin.
Suggested use: Whether savory or sweet, give your food a boost—use for grilling, roasting, and finishing.
NEEM WOOD SALAD GRABBERS - INDIA, THE VILLAGE EXPERIENCE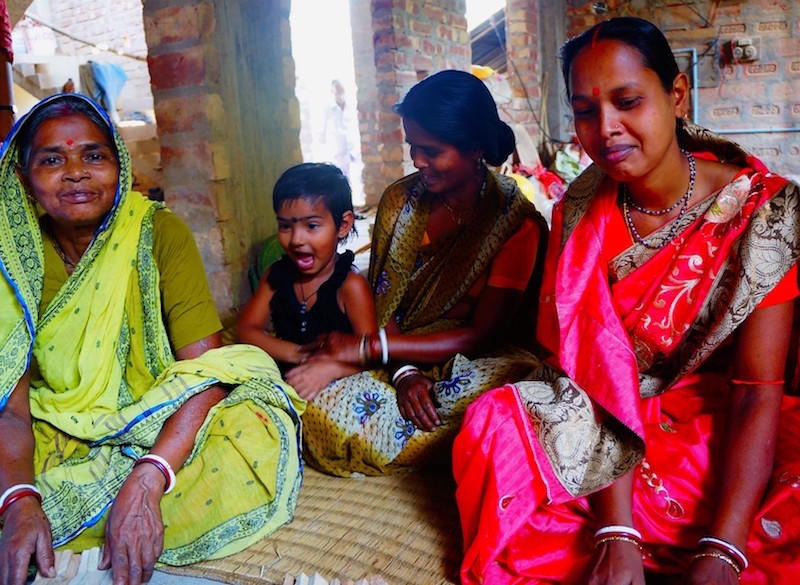 Women around the world struggle for a work-life balance, a sustainable way of both caring for their families and providing for them. This was the struggle for Jayanti (pictured in the middle with her daughter)—to care for her three children and find work. And it had to be work she could do from home, something that flowed with the rhythm of motherhood.
The Village Experience, the cooperative responsible for carving your salad grabbers, answered Jayanti's call. A seasoned woodworker, today Jayanti carves soft neem wood in the space of her home and presence of her young ones.
The newest addition to your salad kit represents recognition of the importance of women's participation in the workplace, while maintaining the vitality of their place in the home. Each role, after all, has something to offer the other. Offer these beautiful hands to your table, and gather some salad in style.
Suggested use: Toss and serve!
PALM LEAF BOTTLE BASKET FROM OAXACA, MEXICO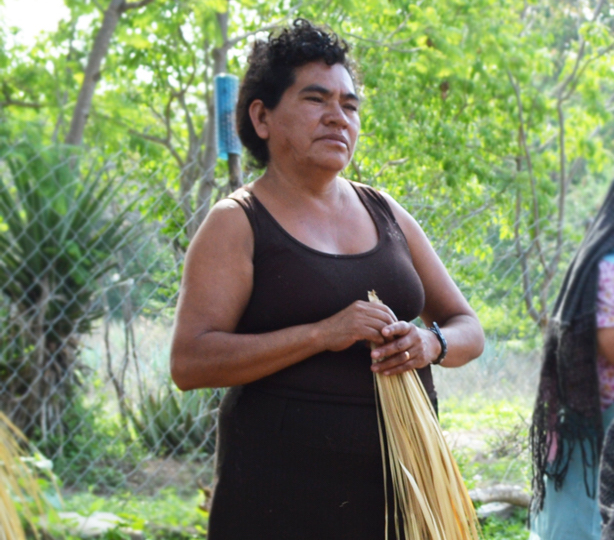 Your bottle basket should look familiar—it's a picnic-themed variation on our monthly baskets. Made by our weaver friends in Oaxaca, this piece is dexterously hand-woven by palm leaves gathered in the hills.
Teresa Perez Marquez, 43 years old, lives in the town of San Luis Amatlá. At 33, Teresa became a widow of the man she married as a teenager, and raised three children with. While the children of her first marriage are all grown and married off, Teresa has since remarried and is getting to do motherhood all over again.
Teresa uses her weaving income to support the expenses of her household. Ever tenacious and hard-working, she has not only increased her own production over the past several months, but has also dedicated herself to the training and integration of five new basket weavers.
Suggested use: Transport a bottle of tea or lemonade safely and stylishly to your picnic spot.