What's Inside?
CERAMIQUE SERVING DISH - LE SOUK, TUNISIA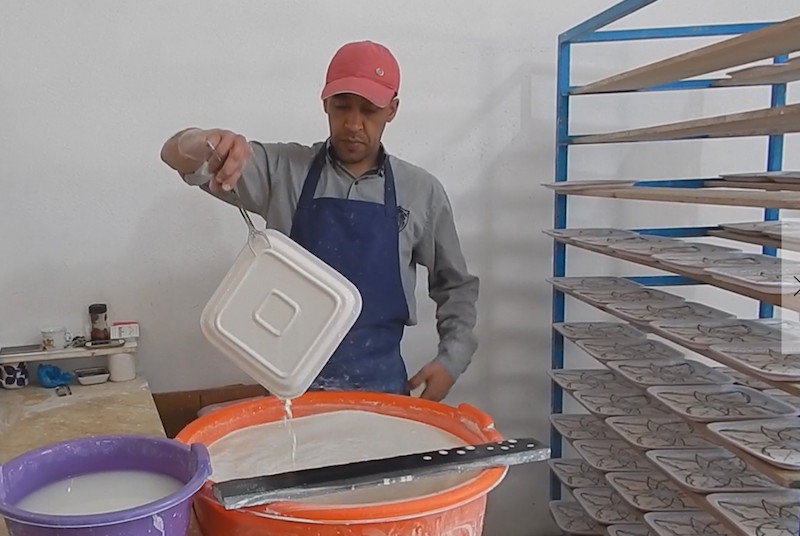 Your mesmerizing new serving dish comes from Nabeul, a city on the Mediterranean coast and the center of Tunisian pottery. While the 2011 Tunisian revolution left high unemployment rates in its wake, Le Souk Ceramique has put many of the city's plethora of talented artisans to work in good, collaborative conditions.
Mohamed Ali is a member of the Le Souk team whom you'll often find nearby a large tub of glaze into which he submerges the delicate ceramics—the last vital step before firing in the kiln.
Sadly, this is Mohamed's last year with Le Souk. Not so sadly, his time with the company has opened a gateway toward even greener pastures, and he will soon be joining his extended family on their farm. With the money Mohamed has saved up, his family can now afford to put their fallow land to use.
Suggested use: Fill with a heaping platter of something hot and delicious.
OFFER BOX - CRAFT BOAT AND TRIBE ALIVE, INDIA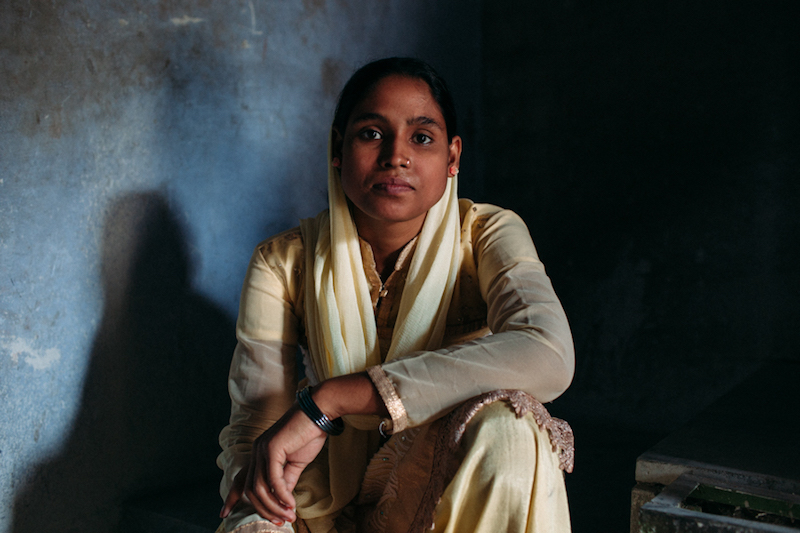 Sometimes in life, the going gets tough and we don't know where, when, or how an opening will present itself. That impulse of the human spirit to keep moving, that faith that somehow something will give if we do, is a gift!
In a time of great duress, our featured artisan, Heena, along with her husband, moved from Calcutta to Jaipur in search of opportunity and "better luck." It was there she found Craft Boat, and, luckily, just at the time when the company was hiring extra help to fulfill GlobeIn's order.
Heena describes Craft Boat as her "place of peace," where her packaging, stock management, and quality oversight responsibilities prevent her from wallowing in the personal hardships of her home, and allow her to focus on something constructive that contributes to the betterment of her family.
Suggested use: Offer something special to a special someone. Amp up the specialness with this thoughtful packaging!
WISHING CARDS - CRAFT BOAT AND TRIBE ALIVE, INDIA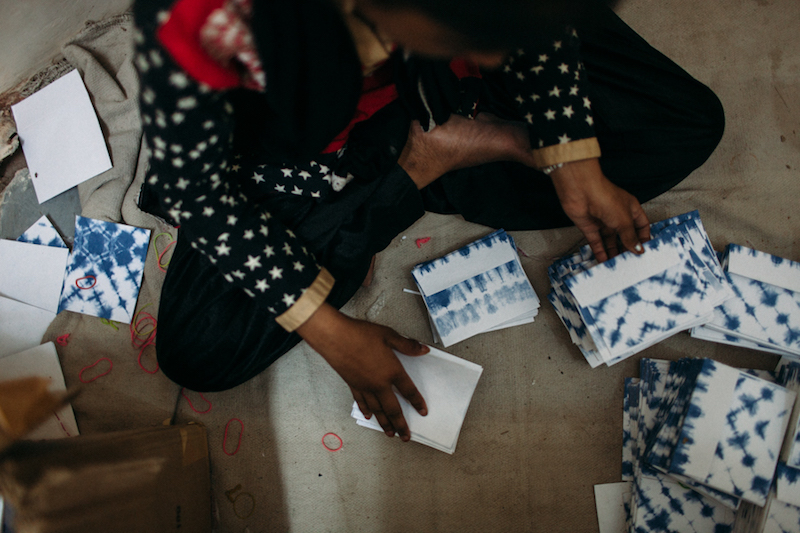 Paper comes from trees, right? Often, but in the town of Sanganer, near Jaipur, a small community of artisans is keeping alive the region's age-old tradition of making this familiar product from recycled cotton pulp. Once considered a luxury for the royal family alone, today their craft is gaining popularity as an eco-friendly alternative.
Nowadays, the paper makers, traditionally called Kaagzi, work for Craft Boat, a company specializing in creating community around the production of artfully handmade paper gifts.
For Craft Boat artisans, the making of their delicate products is more than just a way of making ends meet, is more, even, than keeping a cultural tradition alive. It is a way of being alive, of entering the moment and doing so in the company of others.
Suggested use: Connect with the ones you love and wish them well with an (eco) friendly note!
PALM LEAF BASKET - GLOBEIN, MEXICO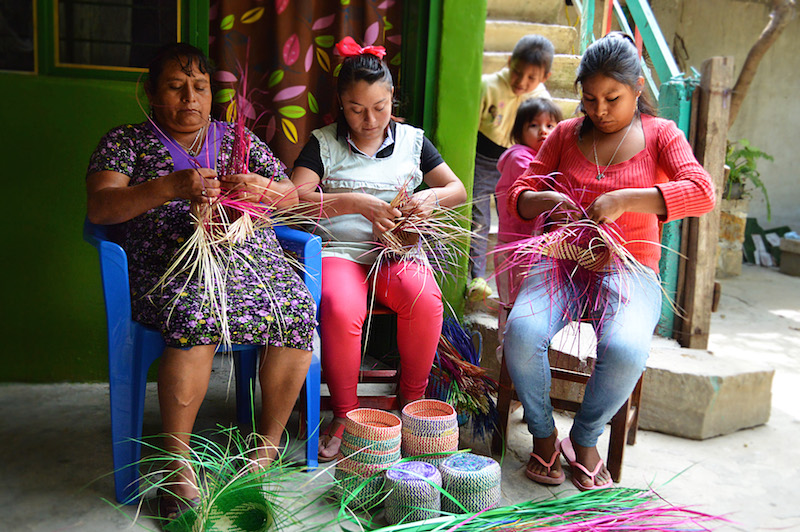 For the people of the Mixteca region of Mexico, basket-weaving is a way of life that also sustains life. With a dexterity passed down through generations, ancestry come to life in the tireless work of fingers, the weavers weave palms into vibrant, multi-colored baskets. On the outskirts of Oaxaca City, Doña Martina Garcia weaves alongside her two daughters and her daughter-in-law.
For each artisan involved, basket-weaving means a stable monthly income used for building a house, starting a small business, or purchasing food and medicine. For Doña Martina, her steady sales through GlobeIn have meant being able to spend more time at home, where she can work on her baskets while taking care of her family. As a result, she sold her stall in the Oaxaca crafts market, where she had been selling for ten years, and has dedicated herself and her small team to working entirely for GlobeIn.
Suggested use: Place paper and a pen in your basket and invite guests to your home to leave you little anonymous notes, poems, jokes, quotes, or expressions of gratitude. Pull one out whenever you need a little cheer.
BASKET SUBSTITUTE: CERAMIQUE SAUCE DISH - LE SOUK, TUNISIA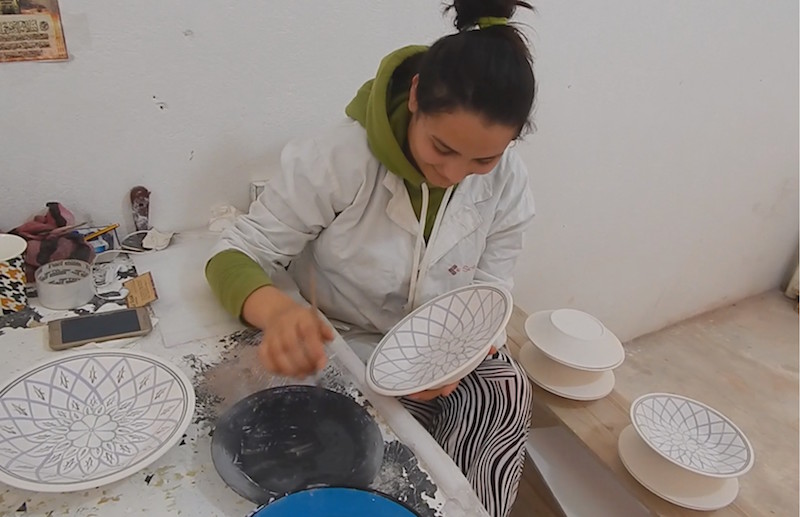 Meet Maryem, a new bride and one of several artisans on the collaborative team at Le Souk Ceramique, the company responsible for crafting your new and enchanting little sauce dish.
Let your dish's skillfully painted lines evoke gentle Mediterranean waves and the air of peace, prosperity, and teamwork embodied by modern Tunisians, even in the midst of hard economic times.
Unfortunately for the new couple, Maryem's new husband lost his job at a hotel last year. While this could have put a hitch in the beginning of their life together, Maryem's career at Le Souk enabled them to keep their wedding plans on track and to celebrate this once in a lifetime occasion with the festivity it deserves.
Suggested use: Who doesn't want extra sauce? Whether it's tomato, soy, alfredo, or gravy, keep a little extra among your spread.