What's Inside?
TRASHY BAGS UPCYCLED TOTE FROM GHANA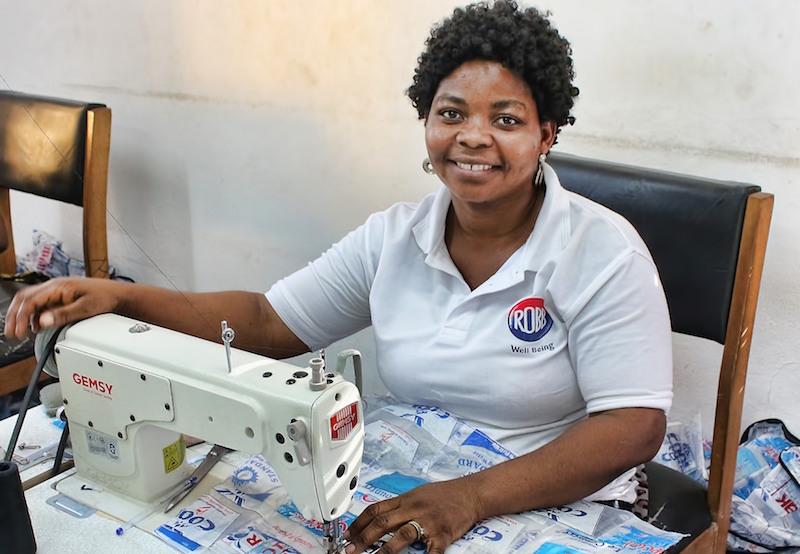 Anastasia Lavie has no memories of playing as a child, but she does recall seeing other children at play and wondering how they had the time. Most of her own time was spent selling food on the street for her family, who were too poor to put her in school.
But Anastasia never let go of her fervent desire for an education. At 18, she finally gained some training in sewing and textiles. Instantly, her future became charged with a glimmer of possibility and she resolved to give her own children the chances she lacked.
And the happy memories. "Children need good memories," she says. On behalf of her children, Anastasia commutes several hours a day to work, and looks after them while at home. Having worked for Trashy Bags since 2007, Anastasia is one of their most skilled, and positive, employees.
Suggested use: Use as an eco-friendly shopping bag or as a roomy day bag.
CONSCIOUS COCONUT OIL FROM THAILAND
Keep it in the kitchen, keep it in the bathroom, keep it on you at all times... The myriad capabilities of this "multi-tasking" miracle make it as essential to your day as its essential oils are to your body, particularly your skin.
Inspired by just how much the coconut has to offer, Conscious Coconut addresses each phase of their production line with love, from donating a meal to a child with each purchase, to employing and empowering developmentally disabled adults to package the product, to prepaying their farmers to ensure their basic needs are met.
Kamon is a third generation coconut farmer living near Nakhon Pathom, Thailand. He finds joy working farmers markets alongside family and friends. Get in the coconut spirit by showing some love and joy to your skin!
Suggested use: Use as a moisturizer, hair conditioner, shaving cream, sun protection, itch relief, treatment of scars and infections, oral care, makeup removal...etc...
GLASS VESSEL FROM MEXICO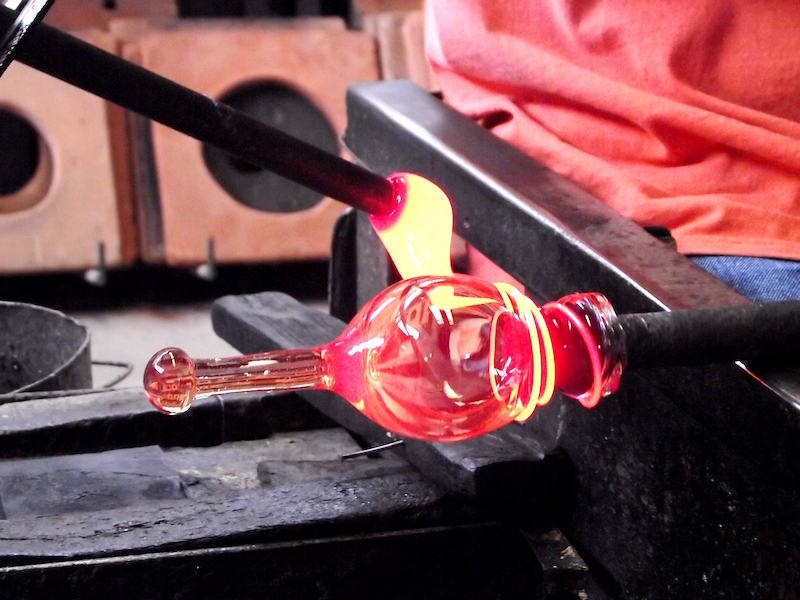 Few artforms will put you in as much awe at earth's materials and their chemical processes as hand blown glass. What was once a hot and incoherent blob is now your cool and smooth new drinking vessel.
It takes a talented artisan indeed to form molten glass into elegant, coherent shapes. Many such artisans live in the city of Tonalá in the Mexican state of Jalisco, a handicraft hub, especially of pottery and glass.
Dedicated to preserving this artform, Cristaluc was established in 2001 and today employs 40 local artisans. The company provides its artisans a steady income and a supportive and inspiring space to practice their art. The process of making your new glass involved 8 to 14 glassmakers working as team.
Despite its hot and blob-like beginnings, we hope your vessel brings you (or your flowers) some cool, clarifying moments.
Suggested use: Drink out of it, or use as a vase.
ZAMBEEZI LIP BALM FROM ZAMBIA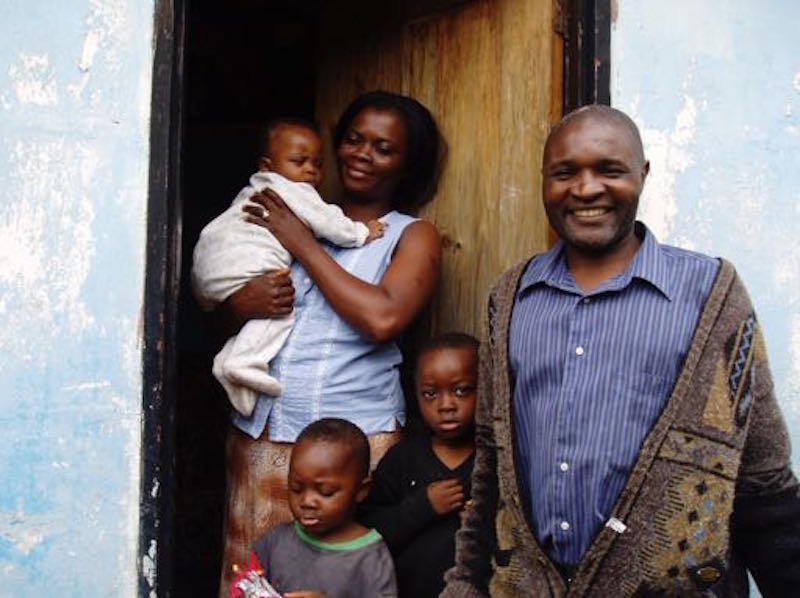 Since bees source their pollen from wide swathes of land, organic beeswax indicates the presence of a large, utterly wild region, untainted by chemicals. The beeswax and exotic mungongo oil in your new lip balm were sourced from the unspoiled forests of central Africa, where Brownd (Kahona) Kalenda and his wife and family live.
Kahona works hard to bring beeswax to the world while helping the people of his community. He loves being able to give widows meaningful employment and a fair and living wage through work with Zambeezi. Having adopted two orphan boys into their family, he and his wife also plan to build an orphanage on the small plot of land they've recently purchased.
As a company, Zambeezi is committed to providing the people of Africa's pristine subtropical forests sources of income other than timber and strip mining, sources more sustainable for people and land alike.
Suggested use: Smear, rub, smile.
BRASS BOTTLE STOPPER FROM SOUTH AFRICA
Optional--if substituted for basket.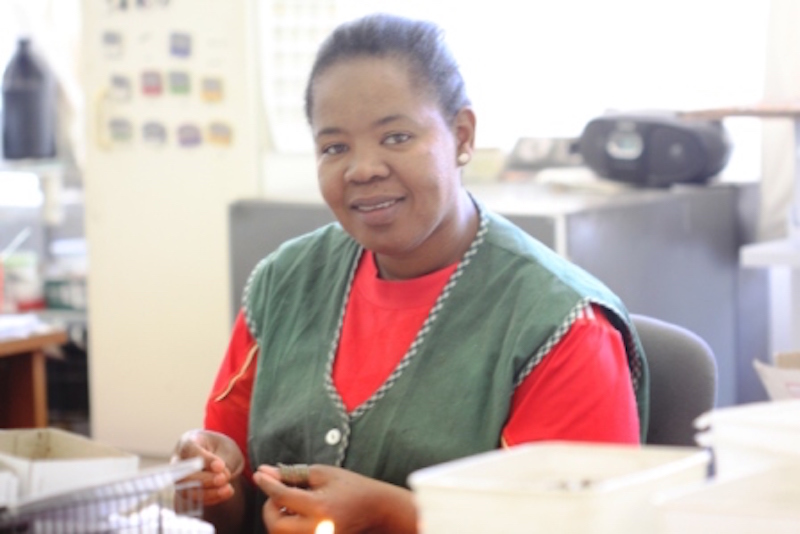 Not completely finishing the bottle of wine just got more exciting with your new Roots of Creation bottle stopper. A spirited bunch of auntie's, uncles, cousins, nieces, and nephews, this artisan collaborative is as festive (and practical) as their products. Design, metal-casting, electroplating, finishing, and packaging are all done under one roof amid the din of constant laughter, chatter, and high standards for quality.
Founded in 1993, Roots continues to grow as organically as its name would imply with a relative or friend joining the party whenever more hands are needed. Swahili Modern, the company through whom we connected with Roots, is committed to paying these artisans fairly and on time, and to developing long-term relationships. These relationships allow the artisans' dedication to gain traction, and result in personal and professional advancement. No wonder spirits are high!
Suggested use: Use in opened wine or olive oil bottles—or wherever it fits!
PALM LEAF BASKET FROM MEXICO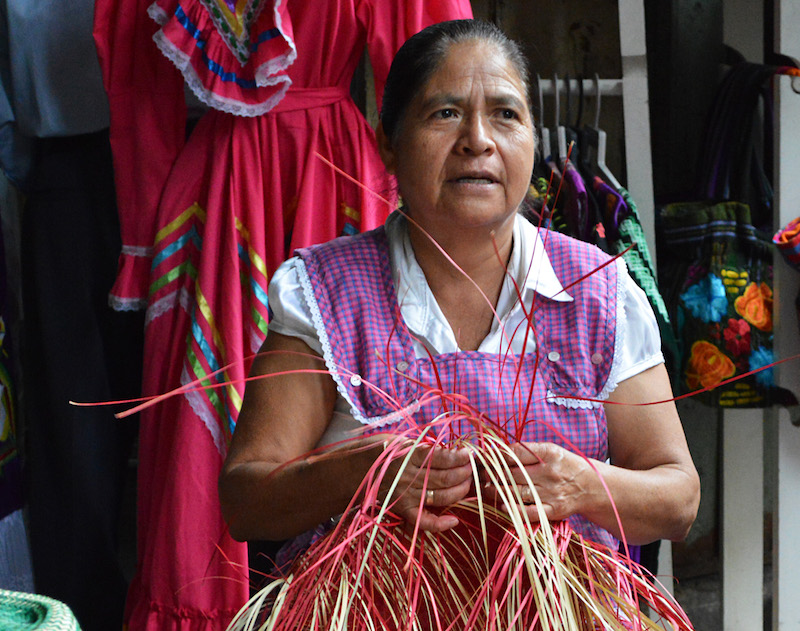 Three hours from the city of Oaxaca, in the remote town of San Luis Amatlán, Doña Selerina García Lucas and her group of artisan basket weavers gather palm leaves from the hills. The women dry the palms in the sun and paint them. And then, with a dexterity passed down through generations, ancestry come to life in the tireless work of fingers, the women weave the palms into vibrant, multi-colored baskets.
Each basket takes two to three hours to weave, with each artisan completing an average of three baskets per day. Once a month, Doña Selerina transports her group's baskets to the market in Oaxaca where they are picked up by Marina Lopez, coordinator of several basket-weaving groups in the region.
For each artisan involved, basket-weaving means a stable monthly income used for building a house, starting a small business, or purchasing food and medicine. For the people of the Mixteca region, as this part of Mexico is known, basket-weaving is a way of life that also sustains life.
Suggested Use: Keep your gardening gloves and small tools in one place.