What's Inside?
NOTCH RING FROM HONDURAS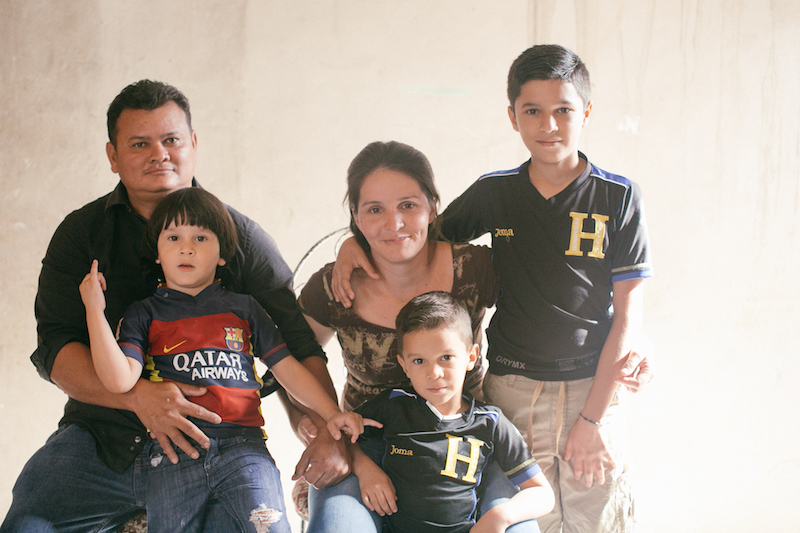 Both your chunky new notch ring and crescent stud earrings were fashioned by one of Mi Esperanza's most high-level jewelry-makers, Sulema. But just a year ago, Sulema was an unemployed seamstress who had never cut a metal in her life. Given the opportunity to participate in a large Tribe Alive jewelry production, Sulema forged a formative new notch in her artisan belt.
Soon she won't be the only one in her family with a diverse skill set. Thanks to her new income, and her belief in a bilingual education, Sulema has recently enrolled her children in a first-rate school where they are learning English.
Care instructions for all jewelry included: Do you like an aged, patina look to your brass jewelry, or prefer it to always be bright and shiny? If shiny is your thing, periodically soak all the pieces in this box in a mixture of water and lemon juice for five minutes, then rinse thoroughly and dry.
CRESCENT STUD EARRINGS FROM HONDURAS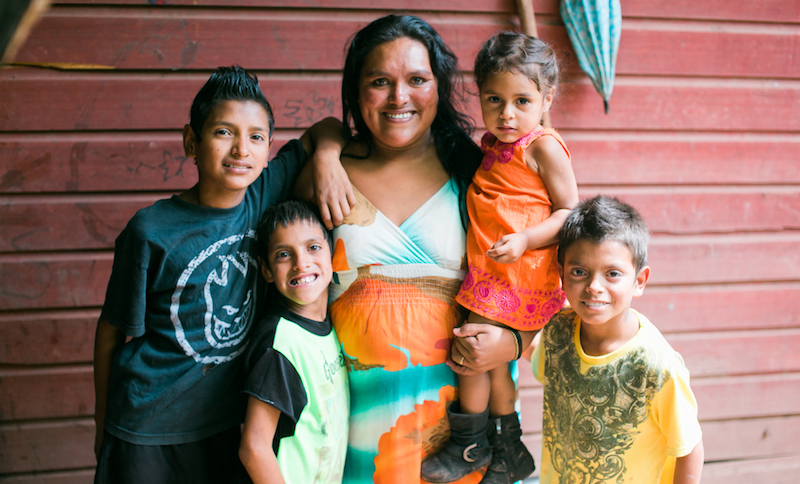 As the sole provider for her family in a region torn asunder with poverty, violence, and natural disaster, Dilcia's resilience and resourcefulness have put her on a path of entrepreneurship.
In 2005, after a flash flood nearly took her home, Dilcia started her own business through Mi Esperanza's micro-loan program. But it was not long before a local gang demanded she pay a "war tax" in order to keep her business. The setback impeded her profits enough that she was forced to close her doors.
But Dilcia persevered. Determined to establish a means of providing for her family, she enrolled in a Mi Esperanza sewing course and poured her energy in this new direction with gusto. Not only did she finish at the top of her class, she was chosen to undergo a special training in fabric dyeing. The thoughtful cloth tab protecting your new studs is but one sample of her proud work.
WAVE CUFF FROM HONDURAS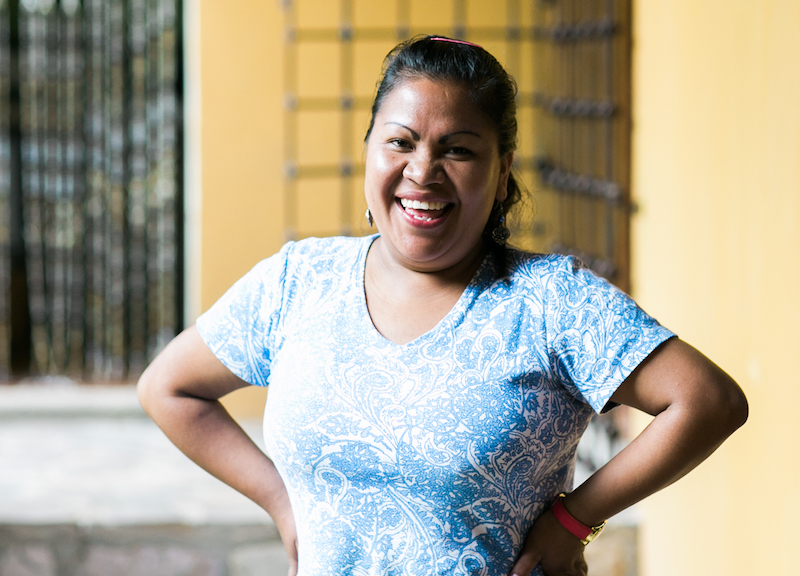 A wisp of brass with bold design, your new wave cuff manages to be both opulent and ethereal, sporty with a whiff of Egyptian queen. The maker behind its polished brass and delicate curves is Eugenia, herself a set of heartening contradictions.
Single mother, sole provider, and talented artisan, Eugenia is also a master joke teller, sending ripples of fortifying laughter into the world around her, a world that's looking brighter by the day. Prior to joining Mi Esperanza to complete an order for Tribe Alive, Eugenia was jobless and knew nothing of jewelry-making. Given the opportunity to provide for her daughter, she dove in and developed herself into one of the studio's top producers.
When Eugenia first used her new income to buy her daughter a computer for school, she experienced an unprecedented wave of pride. Imagine her elation when, after a subsequent Tribe Alive job, she began building her own house!
TOKEN PENDANT NECKLACE FROM HONDURAS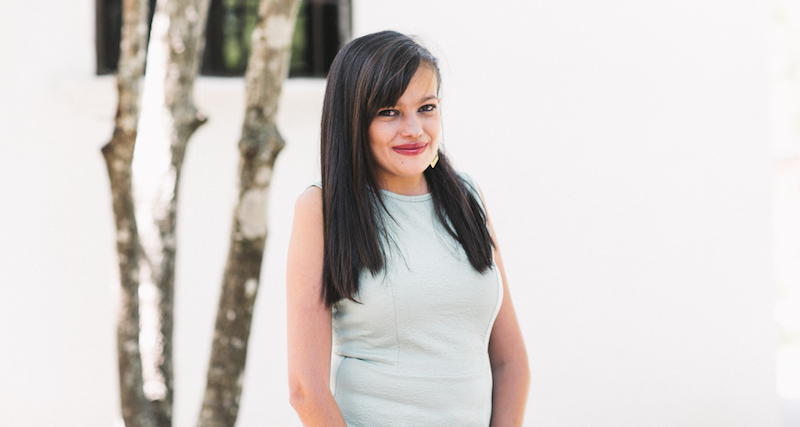 Elegant yet laid back, your necklace results from a cascade of life-altering events for its maker Denia. As a child, Denia was diagnosed with a life-threatening heart condition that local medical missionaries were unable to contend with. In fact, it took two volunteers from the States and a world-renowned cardiac surgeon to complete the procedure that, years later, saved her.
Feeling deeply called to help their new friend, volunteers Alan and Julie tracked down the surgeon and then welcomed Denia into their Florida home during her six-month recovery. While in Florida, Denia discovered Julie's art studio and learned from her how to make and sell jewelry for a living. Upon her return to Honduras, Denia and her family relocated to the city of Santa Ana to work full-time with the artisan collective Mi Esperanza. Minimal yet romantic, this fine token of brass is a token of hope that lies close to the heart.
WOVEN POUCH FROM GUATEMALA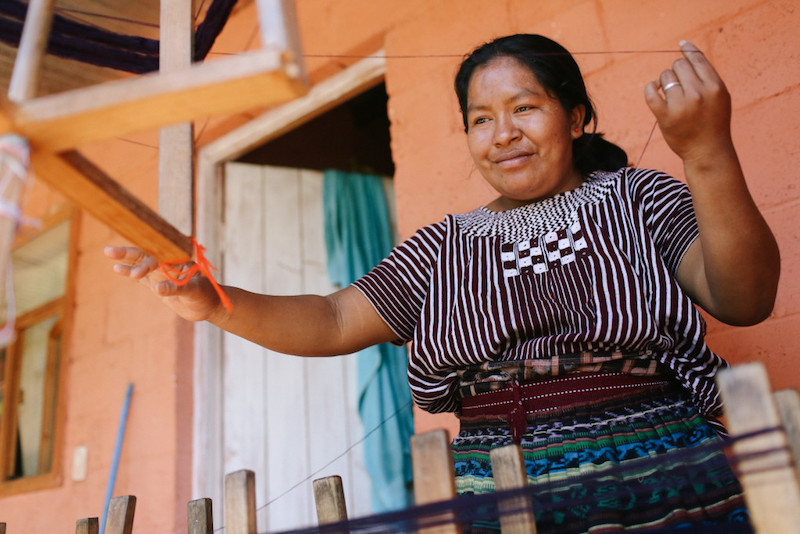 Your brass jewelry is best kept stored in a dry, sealed place. Luckily, we've got you totally covered with your new Maya Traditions hand-woven pouch complete with interior lining to treat your jewelry well.
Having learned the art of Mayan backstrap weaving at the age of ten as a means of helping her parents pay the bills, Cecilia could never have known that as an adult she would be fully supporting her own family through this trade, even weaving for multiple U.S. brands. Today she is one of Maya Traditions' most in demand artisans.
Cecilia sees weaving as a way to leave a mark on her family, community, and culture, and plans to pass the art form on to her three children. Her strong, calm spirit is evident in the threaded handiwork forming your pouch's vibrant Mayan designs.
PALM LEAF POUCH FROM MEXICO
Just what can't our Oaxacan weaving friends make out of palm leaves? A variation on our usual basket, your new pouch is the perfect addition to your purse or tote, keeping jewelry, makeup, or money safe—and stylishly so. Think of it as a basket you can travel with!
The more we collaborate with our weaving friends, the more of their stories we get to know and share. Meet Doña Leonor. When she was just a young girl, Doña Leonor's father passed away. It was at this early age that she was taught the traditional Oaxacan craft, as a way of helping her mother support the family.
These days, Doña Leonor continues to use her skill to support her own family. The money she earns through working with GlobeIn brings her ever closer to her dream that her high school aged sons will attend college and weave their own bright futures into being.