What's Inside?
FEZ MINI TAGINE FROM NABEUL, TUNISIA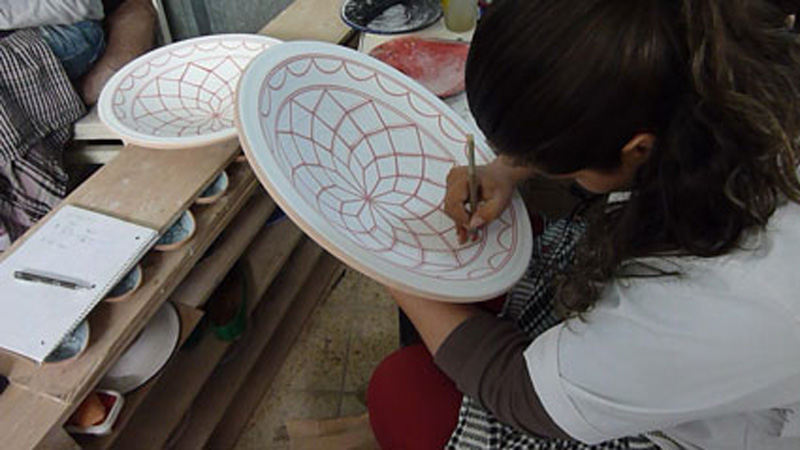 Le Souk Ceramique is a small studio that opened in 1997 in the coastal Tunisian town of Nabeul. Using ancestral techniques passed down through generations, the artisans of Le Souk Ceramique create breathtaking stoneware ceramics with designs and colors inspired by their Mediterranean location.
Each timeless design is created in the studio where every detail is painted by hand and every color batch is mixed by hand, resulting in one-of-a-kind works that are truly artisanal. This artisan community works only in freehand design, never using any machinery, decals, or stencils in their complex, delicate artwork. All of Le Souk's glazes are food safe, creating a healthy environment for the artisans while producing kitchen-friendly ceramic products for your home.
Le Souk sets wages above minimum wage, provides healthcare and social security payments for artisans, and is in process to receive Tunisia's Fair Trade certification.
KITCHEN TOWEL BY EL TUN IN ANTIGUA, GUATEMALA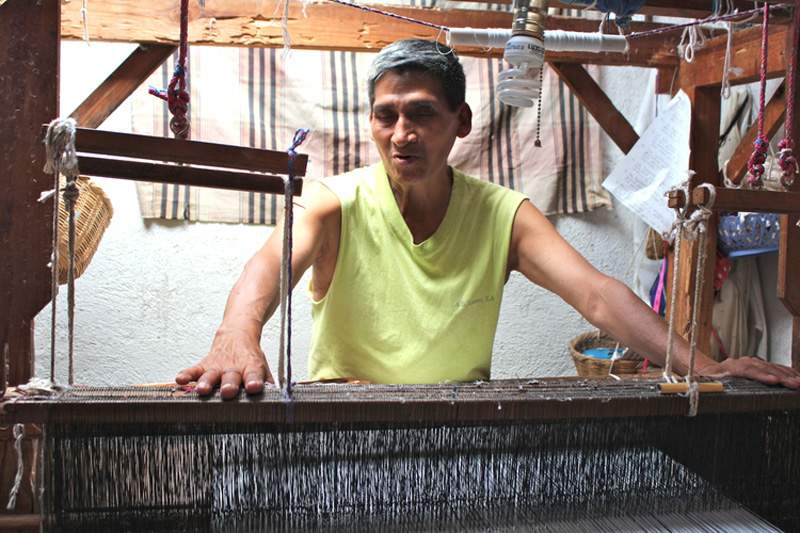 In a small workshop in Antigua, Guatemala, the four brothers who make up the artisan community of El Tun have been working for the last twenty-five years to save their traditional method of weaving by creating handwoven textiles to share with homes around the world. Inspired by the rhythmic beating of the treadle foot loom while they work, El Tun translates into the traditional Guatemalan drum found throughout the country.
With a passion for their craft, a desire to preserve a weaving method passed on through generations, and motivation to create a sustainable and safe working environment for El Tun's family of artisans, their artistic creations of linens and napkins bring more than a basic function to the table, they bring an inspiring story.
PURE GROUND VANILLA BY LAFAZA FROM MADAGASCAR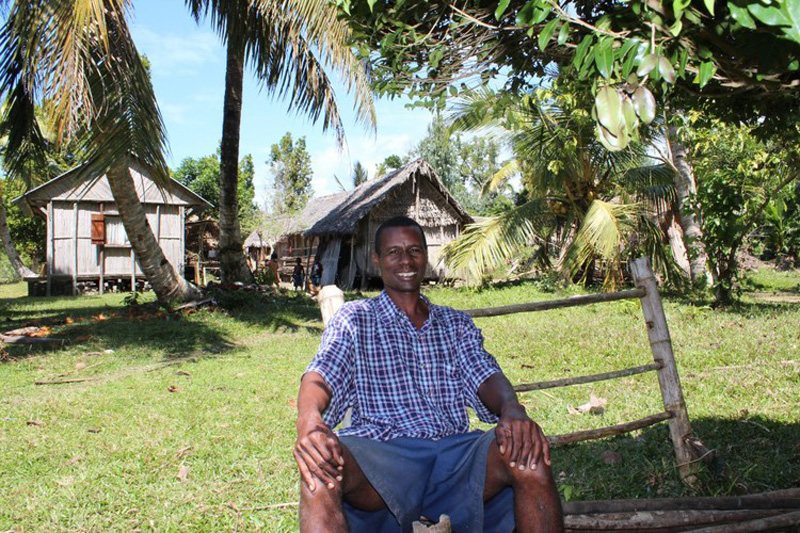 LAFAZA partners directly with over 250 individual small farmers in rural Madagascar. The knowledge, hard work, and love for growing environmentally sustainable vanilla has been passed down through as many as four generations of our partners in Madagascar. These farmers and vanilla curing experts alike take great pride in producing the finest gourmet vanilla.
Martin, one of LAFAZA's star vanilla farmers, is a third generation Malagasy vanilla farmer and the leader of a farmer cooperative in his small coastal village of Imorona. He and his family grow their vanilla organically using agro-forestry methods that deliver environmental benefits to the land while helping protect their crops, and thus the family's livelihood, against damage caused by the severe tropical storms that frequently threaten the island. Martin is also the president of the association HITA, which manages a local community library built with the direct support of LAFAZA.
Dela, another star farmer, also lives in the small village of Imorona. She and her husband grow their vanilla using the same methods as her grandparents and those before them: organic compost fertilizer, no chemicals or pesticides, and among an incredibly diverse range of other trees and plants, on a small plot of land. After the harvest, Dela takes charge of the four-month process of sun-curing the vanilla beans.
INKA SALT BY NATIERRA IN THE SACRED VALLEY OF PERU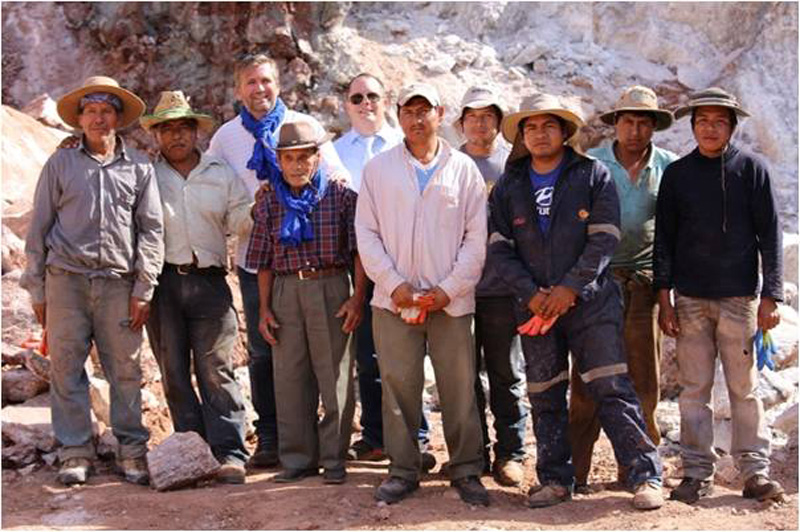 At the heart of the Inkasalt story is a mission to continually support local farming communities. Natierra's founder Thierry Ollivier traveled to the mountains of the Andes. He and his team witnessed first-hand the long-standing tradition of the salt workers hand-harvesting this precious salt. By certifying Inkasalt as Fair For Life, Natierra works to actively help the native salt workers and their families acquire better living conditions, including access to healthcare.
Natierra, a new umbrella brand introduced by superfood powerhouse BrandStorm Inc, offers unique and innovative superfoods with a strong commitment to foster social progress and sustainable business through organic and fair trade practices.
This responsible sourcing promotes empowerment for small-scale farmers and their families through fair wages, working environments and better access to proper healthcare and education. Natierra strives to develop and provide opportunity by promoting ethical partnerships in all stages of production, from farmers to employees to consumers.
COCONUT SUGAR FROM JAVA, INDONESIA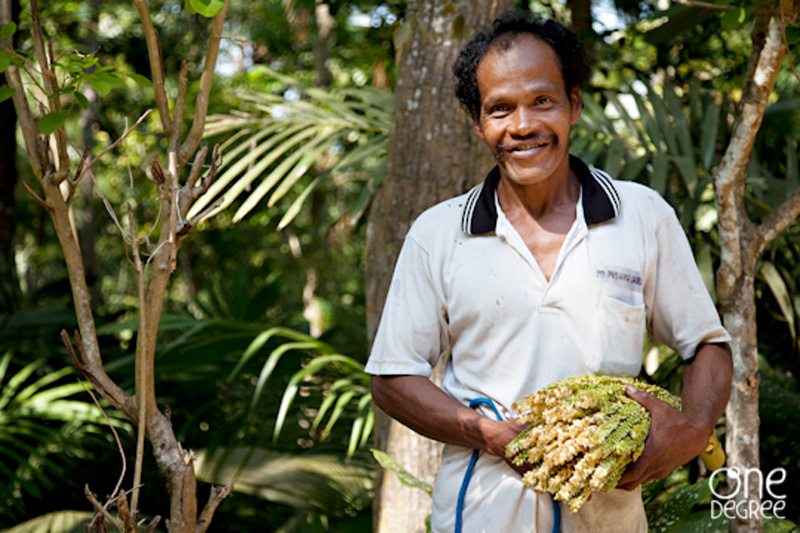 Big Tree Farms works directly with organic farmer partners in Indonesia, paying fair trade wages and supporting sustainable agriculture to create better livelihoods for thousands of families. The mission of the company is to help impoverished farmers earn more income so they can live in health and prosperity.
Big Tree Farms operates sustainable supply chains on more than 10 islands across Indonesia's archipelago of 17,000 islands and atolls. These sustainable supply chains are actually deeply involved social relationships with individual farmers and community farmer groups. The producers involved become part of a tight-knit community and their needs, hopes, and dreams become integral to the company's corporate vision.
When Big Tree Farms first began growing bio-intensively in the central highlands of Bali, the vision was to create a sustainable model of small-scale agriculture for growers in the humid tropics. An immaculate cultural heritage of sustainable farming had been nearly wiped out years before by a transnational campaign extolling the market-oriented virtues of the new commercial farm culture. High input use and overly intensive production systems were established and quickly zapped the strength of the fragile tropical soils.
The beautiful system of old simply didn't work economically, and the precepts of "new" farming simply didn't work ecologically. Small farmers were becoming disenfranchised and anything began to look better than the choice to farm. The key to the model developed by Big Tree Farms was creating the power of choice. By creating a model that worked both economically and ecologically, small farmers were able to celebrate the unique attributes of their agricultural heritage while still succeeding in the marketplace. The farms are finally "working" for the farmers.
Since those early humble beginnings starting on just under 1/8 of an acre, Big Tree Farms has grown to become the premier producer of sustainably grown crops in Indonesia with over 40,000 acres of certified organic land under our farmer-relation management. They are now Indonesia's largest organic food company, supporting thousands of family farms across 10 islands.
COFFEE BY BOCA JAVA IN NICARAGUA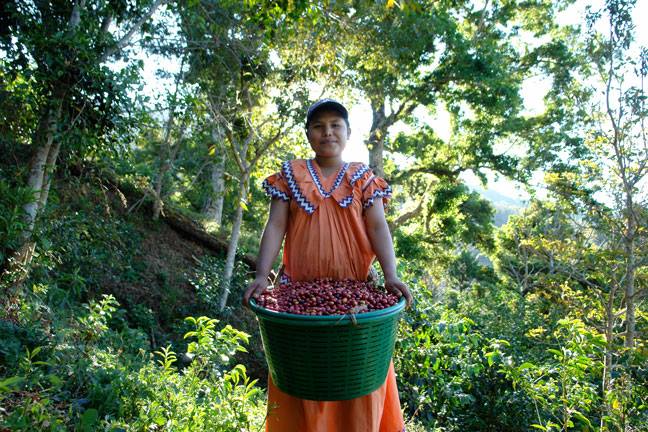 Boca Java sources their Nicaraguan single origins coffees via Direct Trade relationship with a family-owned, environmentally-friendly coffee farm that was established in the late 1850's. In 1992, the coffee estate revitalized and modernized its nearly 150 year old coffee farm for the 21st century. The people are hard working, friendly, and very proud of the quality of their crop.
Boca Java supports Fair Trade, but they also aim to go beyond Fair Trade with Direct Trade buying relationships. Direct Trade allows them to work directly with farmers and offer the farmer a higher price for their superior quality beans. Direct Trade bean costs are typically higher than the minimums mandated by Fair Trade co-ops, but this premium allows Boca Java to hand-select even higher quality beans from unique micro lots that would be inaccessible without such relationships.
They work directly with farmers to choose the right crop -- allowing them to cup the best quality coffees available. When farmers are paid a fair price for their green beans they can, in turn, provide fair wages, health care, education, food, clean water, and shelter for their families and workers. This type of care also extends to the land and its surroundings, allowing the farmer to plant, grow, harvest, and package, all while taking care of their farm and the environment.
Boca Java is all about sourcing the very best coffees, the right way - from seed to cup - AND changing the world through the simple act of drinking a cup of coffee.
Over the last decade, Boca Java has traveled the world visiting the coffee growing regions to personally meet individual regional and estate farmers and cooperatives, to create direct relationships based on fair prices and fair practices. Creating direct trade relationships with small farmers takes a considerable amount of time and cost, and although Boca Java pays a premium for going the extra step, they believe it is simply the right thing to do.
PALM LEAF BASKET FROM OAXACA, MEXICO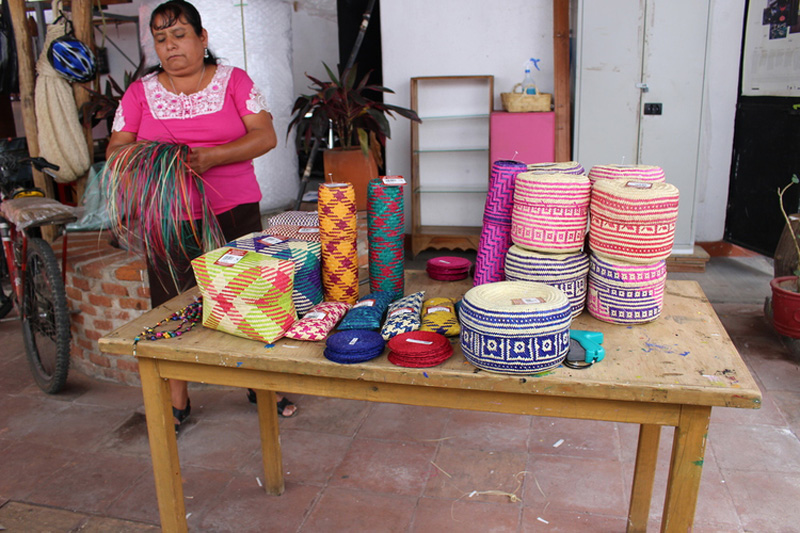 Martina learned to prepare and weave palm at the age of six. She started by making small wallets and small basket covers to help her aunt. Her aunt eventually taught her to create all the items she now sells. And as her mother used to say, "what you learn well once, you never forget."
Martina is very energetic, and loves working hard and getting things done. She is originally from Ocotlán, a rural village in the southern mountain region of the state of Oaxaca. She moved to the city with her husband and three children 17 years ago in order to find work. As her children grew up, Martina worked domestic jobs to make ends meet. A few years later, she began to revisit her old craft of palm weaving – and this created a great change in her life. The most difficult situation she has encountered is not finding a place to sell her works – but this is now in the past. With her sales through GlobeIn, she is now able to rent a spot where she can sell her work and dedicate all her time to creating her pieces.