What's Inside?
JEWELRY ROLL FROM MALAYSIA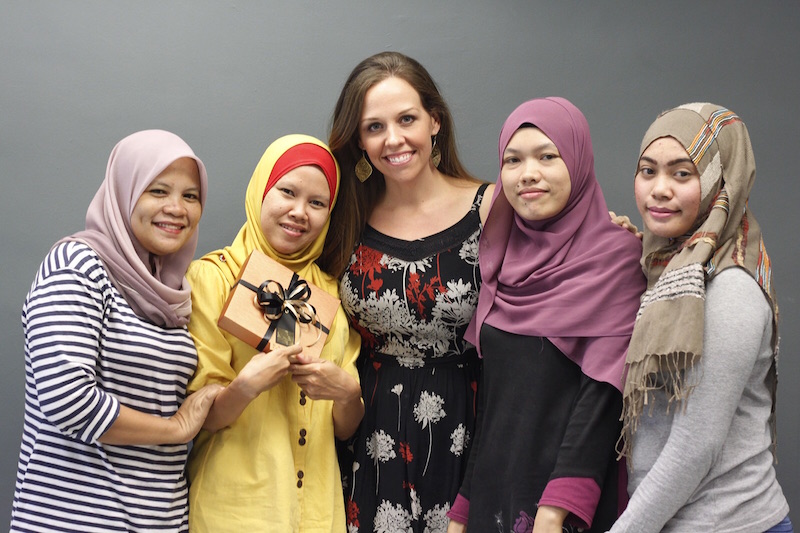 The Batik Boutique in Malaysia provides women life skills and sewing training that gives them an opportunity to support their families while stepping outside of their comfort zones and into a position to thrive.
Like all Batik artisans, Zana (pictured in the red headscarf), a single mother, lives in high-rise, low-income housing in rural Malaysia and has many children, seven in her case! On top of her day job, Zana sews with Batik after hours to make all the ends meet, and to give her children the chance to go beyond their circumstances. GlobeIn's order for your luxurious new jewelry-roll provided three months of work for fourteen artisans such as Zana.
The fabric of your roll was hand-dyed through the ancient process of batik with toxic-free dye from the mangosteen fruit. Let its smartly designed compartments take the hassle of out of traveling with your jewelry.
Suggested use: Load it up!
COSMETIC ARGAN OIL FROM MOROCCO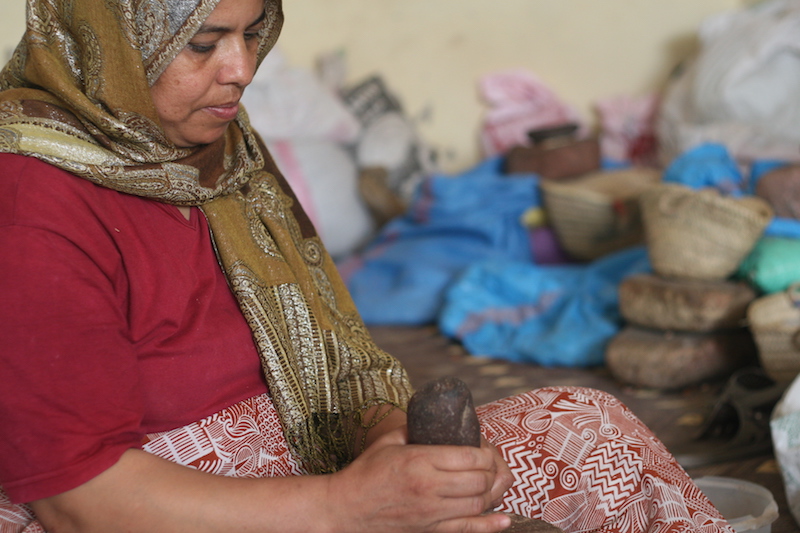 Where there be a need for moisture, argan oil is your knight in shining armor, emphasis on shining. Packed with Vitamin E and composed almost entirely of essential fatty acids hydrating to the face, skin, hair, and nails, there is hardly a place on the body that does not benefit from its properties.
So too, The Argan Project has a way of addressing multiple concerns. Acknowledging how difficult work outside of the home is for women who also have household responsibilities, this organization delivers the argan fruits directly to the homes of its employees, where they are able to crack the nuts at their own pace and work around other obligations.
Apply as a daily facial moisturizer or an intensive treatment to dry, irritated, calloused skin, scars, and chapped lips. Likewise, use it to style hair, or as a deep conditioner!
Suggested use: Any or all of the above!
SHIBORI SCARF FROM INDIA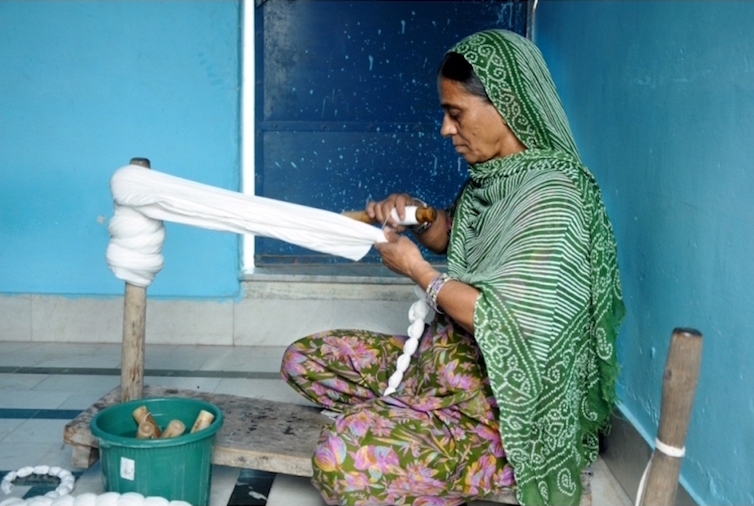 In western Rajasthan, India, economic opportunity is scarce. Most residents of this dry desert region rely on crafts, tourism, and mining for their livelihoods. Through their fair trade partnership with Matr Boomie, the small group of Muslim women responsible for making your scarf are connecting with international markets and exciting new prospects for economic stability.
Traditionally a Japanese technique, Shibori is a process of dyeing cloth in which stitching, binding, and folding are used to create geometric and tie-dye patterns. The intricacies of this demanding craft have been passed down through many generations of women to the ones whose hands expertly crafted your new piece.
Announce your outfit with a hip splash of design while treating your skin to something soft. Your scarf's lightweight cotton and shape make it endlessly versatile and appropriate year-round.
Suggested use: Wrap around the neck, or use as a headpiece or shawl. Change it up throughout the day! Hand wash only.
PALM LEAF BASKET FROM MEXICO
The colorful palm leaf basket containing this month's treasures represents a cornerstone of the GlobeIn Artisan Box—our innovative collaboration with Oaxacan basket weavers. Marina Lopez Antonio is the cornerstone of this collaboration.
GlobeIn's baskets come from four different Oaxacan weaving groups, which are overseen by Marina. She ensures the quality of the baskets and ships them to the U.S. Herself from a family of backstrap loom weavers, Marina lives with her husband in a village near Oaxaca City.
Marina is an entrepreneur. Her successes result from her instinct to further her education, learn new skills, and connect with others outside her village. While such a departure from the norm was initially against her family's wishes, Marina's integrity to her own desires has ultimately enabled her to improve her family's financial stability and quality of life.
Suggested Use: Keep hair accessories or other daily cosmetics in one convenient place.