What's Inside?
PEACE PICNIC BLANKET FROM CAMBODIA
Nothing differentiates the amateur picnicker from the advanced like a good blanket, one that brings comfort to whatever ruggedness you're up against. Be it dirt, sand, dew, or those pesky tree roots, the heavy duty upcycled bags of your new Peace Handicrafts blanket are up to the task. Meanwhile, the soft fabric of the flipside is afternoon nap approved.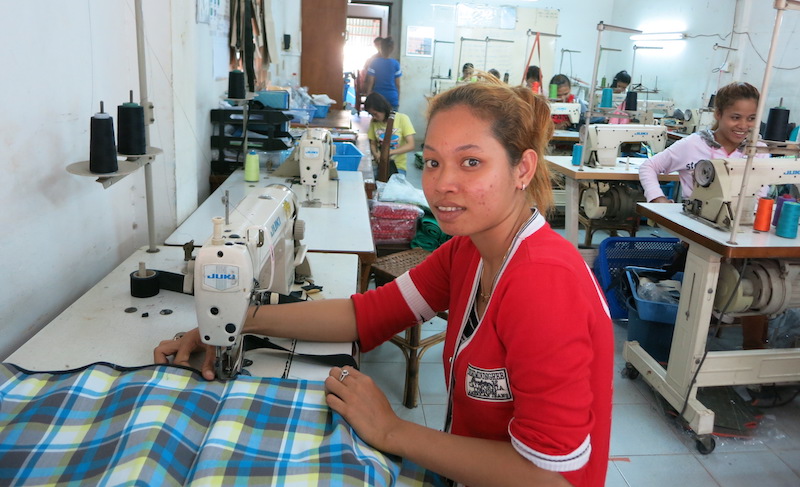 Established in 2002, Peace Handicrafts trains and employs deaf, disabled, and underprivileged persons in the making of high quality, award-winning products from recycled materials.
Chea Lina, born deaf into an impoverished family on the outskirts of Phnom Penh, was forced to withdraw from primary school at a young age due to her peers' relentless teasing. Nearly an adult before she learned how to read, write, and use sign language, she now makes her own living as assistant to production manager with Peace.
Suggested use: Choose a special spot and roll it on out!
NEEM WOOD TRAVEL CUTTING BOARD FROM INDIA
Creation of your new cutting board was a family affair. Meet Chayya, a young grandmother who has mastered the skills of wood carving. She learned the trade through her husband's family, who come from a long line of carvers.
United through an arranged marriage, Chayya and her husband, Sukhdeb, are proud to pass their skills down to their son, Rabin, and his wife Nila. The family works alongside each other and the community to create hand-carved items that they are incredulous will travel to distant lands they themselves may never visit.
Chayya is proud to contribute to her family's income, show off her skills, and help teach others. Currently, she and her family are employing 24 artisans within their cooperative—thanks to GlobeIn's order, their staff has doubled!
Suggested use: Tote along to your picnic and get all hands on deck—use as a cheese board, for making sandwiches, or placing fruit on.
COLOR TRAVEL CUP FROM INDIA
Moradabad, India in 1986 was a place where the concept of Fair Trade did not exist, and where Mr. Samuel Masih noticed that most exporters were exploiting their artisans. An energetic local businessman with a heart for his people, Samuel established le not only to promote and support artisans, but also to invest profits in their social and economic development.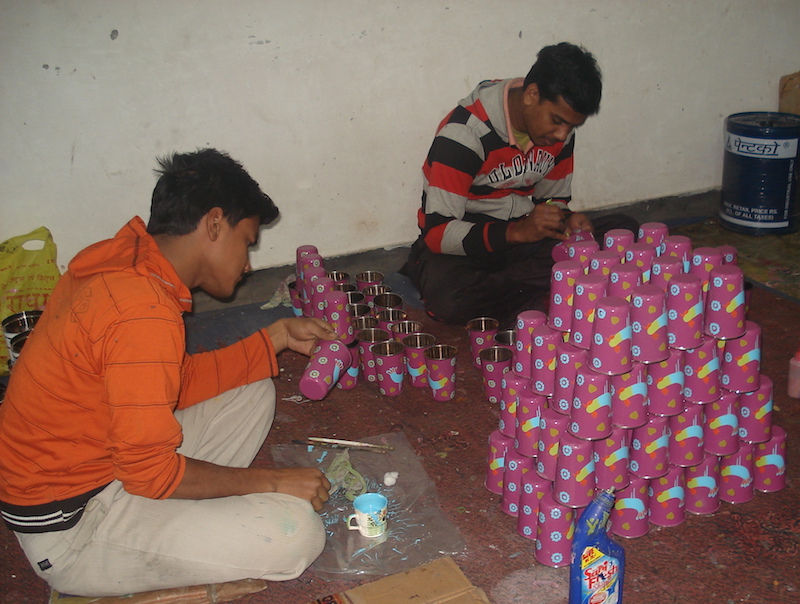 Noah's Ark runs three schools, provides the families of their 700 artisans free health care and access to clean water, and has facilitated the building of 22 independent workshops. While Samuel admits that sometimes he feels like slowing down, knowing that he has hundreds of people behind him keeps him going.
Your cup was made by Dilshad Hussain and his group of stainless steel artisans situated just outside Moradabad. Dilshad deals exclusively with Noah's Ark, and the organization recently donated a dye press machine to his workshop.
Suggested use: Pour yourself a glass of something refreshing!
PALM LEAF BOTTLE BASKET FROM OAXACA, MEXICO
Your bottle basket should look familiar—it's a picnic-themed variation on our monthly baskets. Made by our weaver friends in Oaxaca, this piece is dexterously hand-woven by palm leaves gathered in the hills.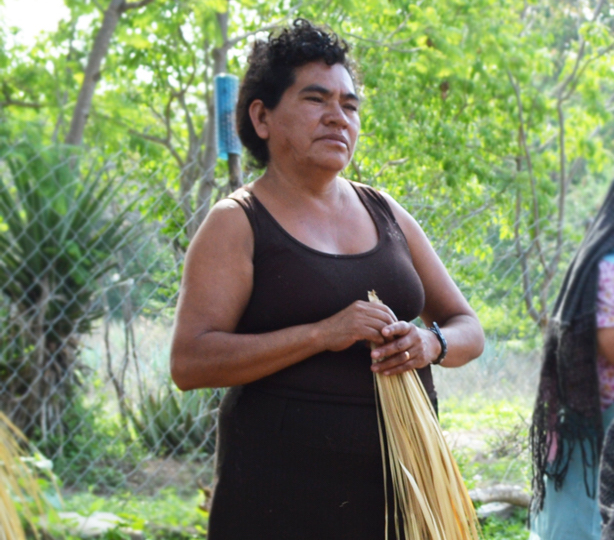 Teresa Perez Marquez, 43 years old, lives in the town of San Luis Amatlá. At 33, Teresa became a widow of the man she married as a teenager, and raised three children with. While the children of her first marriage are all grown and married off, Teresa has since remarried and is getting to do motherhood all over again.
Teresa uses her weaving income to support the expenses of her household. Ever tenacious and hard-working, she has not only increased her own production over the past several months, but has also dedicated herself to the training and integration of five new basket weavers.
Suggested use: Transport a bottle of tea or lemonade safely and stylishly to your picnic spot.