What's Inside?
OLIVE WOOD SPREADER FROM TUNISIA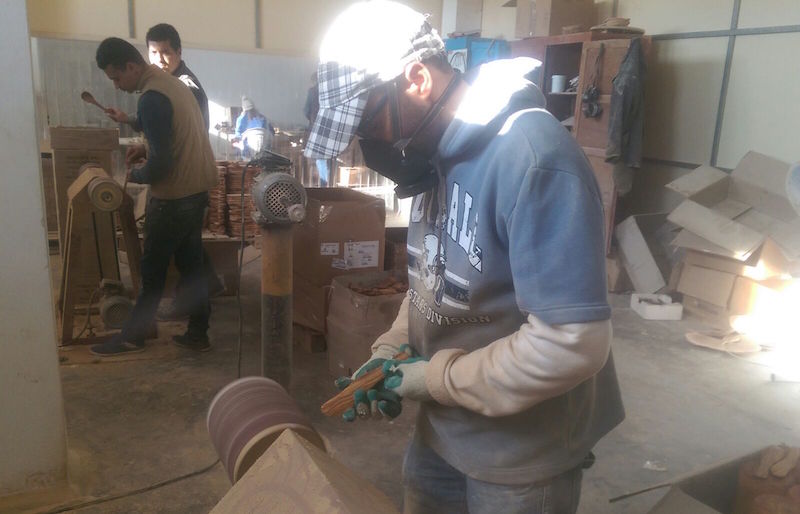 Tarek Tlilli, age 34 and newly a father, lost his job at a furniture factory in Nabeul in 2013 when the factory shut down. Sadly, his story is not unique—the 2011 Tunisian revolution left a shaky economy in its wake and to this day unemployment rates are high.
Enter Le Souk, a craft workshop in Nabeul that in 2013 was just getting their new olive wood studio, Le Souk Olivique, off the ground—happily just in time to scoop Tarek into their ranks based on the very skills he'd acquired in the defunct factory.
Particularly deft at using the machinery to create curves and round pieces, Tarek's steady hand is responsible for your new knife's delicate slope. Meanwhile, his alliance with Le Souk has carved a quiet prosperity into his and his family's future.
Suggested use: Spread something soft and delicious onto something warm and crisp...
ARGAN ALMOND BUTTER FROM MOROCCO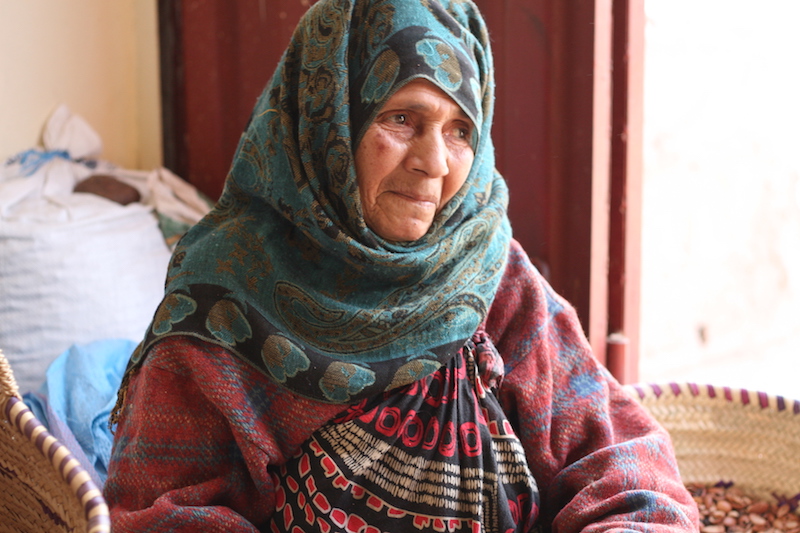 Imagine a tree, its roots stretching deep into the soils of southwestern Morocco. Kernels within the tree's fruits contain a potent oil packed with vitamin E and essential fatty acids especially nourishing to the skin.
Meet the argan tree and its oil, argan oil. Meet Arganams, a women's cooperative in the small town of Amskroude whose members since 2012 have joined forces within a shared production facility to improve their economic prospects.
Meet Fatima, the eldest woman working with the co-op. Illiterate and innumerate, Fatima does not know her exact age, but she knows intimately the 20-hour process of harvesting the argan fruits, then roasting and pressing their kernels for the rich, nutty oil. As other ladies raised with brothers can imagine, Fatima relishes the opportunity to work among women.
Suggested use: Meet your very own jar of argan almond butter. Introduce it to a piece of toast topped with fruit.
BLOCK PRINT TRIVET FROM INDIA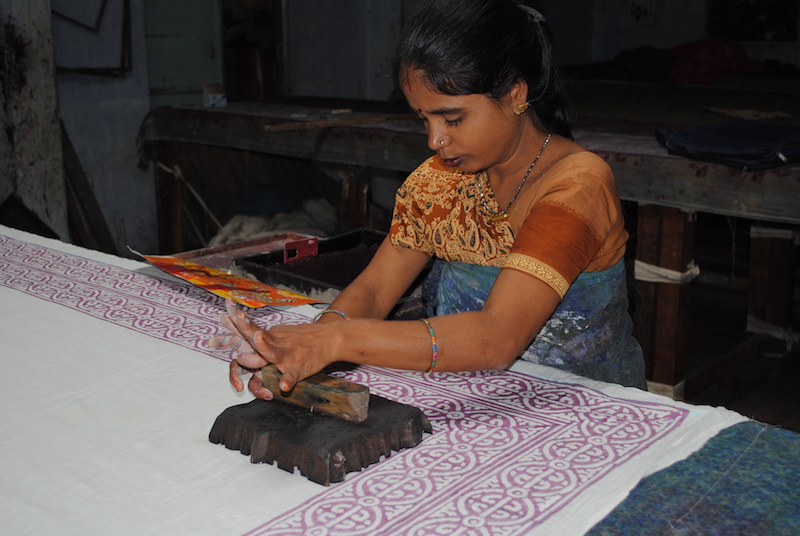 A wholesale fair trade collection that marries modern design with traditional Indian art forms, Matr Boomie creates opportunities for women and minorities to realize their creative, economic, and leadership potential.
Your trivet features block printing, a labor-intensive art form native to Rajasthan. First, wood blocks are painstakingly carved with ornate designs. Artisans press the wood blocks into wet dye and then apply them to fabric. The color changes throughout the process, bestowing each item with a unique hue.
Unfortunately, artisan living conditions are far less sophisticated than their exquisite craft. Most dwell in electricity-less mud huts in isolated villages where the lack of infrastructure limits opportunity. Happily, Matr Boomie partners with an organization that develops solar power, education, and health care initiatives.
Suggested use: When it's not saving your table from a hot dish, hang the trivet from its loop to spice up your kitchen decor.
OLIVE WOOD SPATULA FROM TUNISIA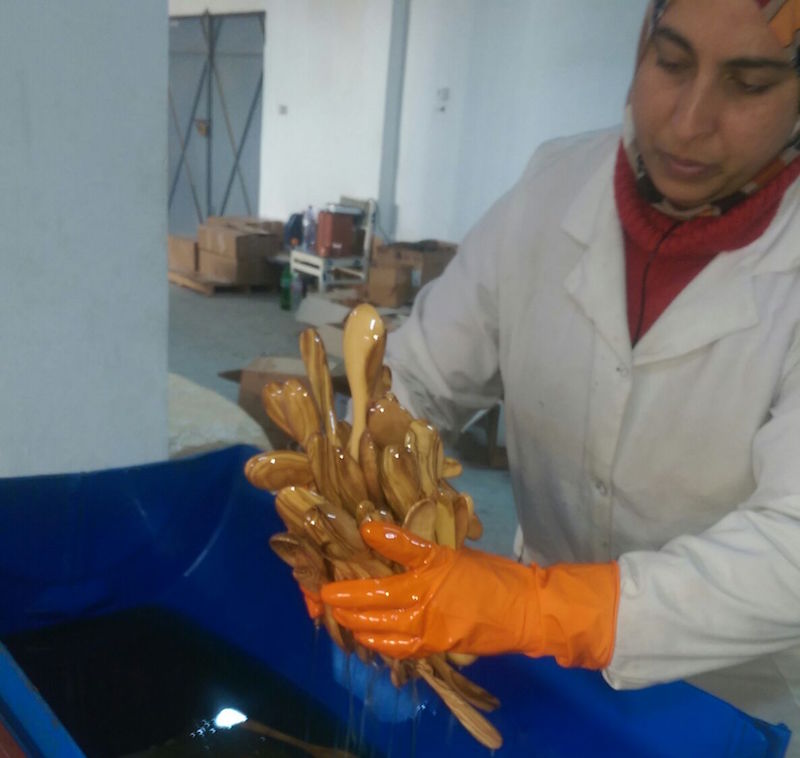 Your spatula comes from Le Souk Olivique, the same Tunisian wood-working studio responsible for creating your wood spreader, and for generally being a saving grace to young Tunisian artisans affected by a flailing economy.
The 2007 world financial crisis lead to the closure of many Tunisian textile factories that exported to the European market. Mouna Maamouri, age 36, worked in a textile factory that shut down, compromising her and her husband's ability to provide for their four children.
Again, enter Le Souk. The company hired Mouna in 2014 to help with the process of oiling wooden kitchen implements, such as your spatula. After the piece has been cut and sanded, Mouna dunks it into a tub of Le Souk's special finishing oil made of mineral oil, paraffin wax, and beeswax. Ahh how smooth it feels, family life dunked in the warm hug of financial stability.
Suggested use: Pancakes...flip em!
PALM LEAF BASKET FROM MEXICO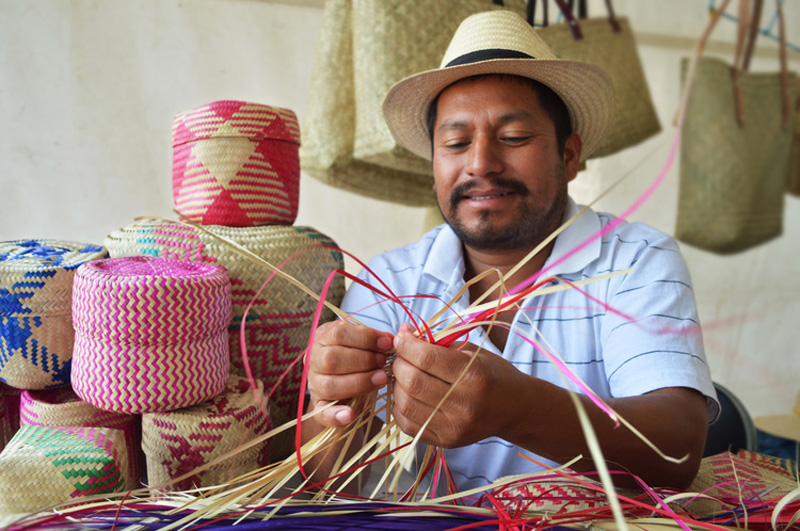 Five hours from Oaxaca, in the town of San Pedro Jocotipac, Don Juan García and his family of artisan basket weavers sit together for hours a day weaving. With a dexterity passed down through generations, ancestry come to life in the tireless work of fingers, they fashion the palms into vibrant, multi-colored baskets.
Don Juan and his family produce about 800 baskets per month. He then transports the baskets to Oaxaca where they are picked up by Marina Lopez, who coordinates with GlobeIn.
For the people of the Mixteca region, as this part of Mexico is known, basket-weaving is a way of life that also sustains life. Thanks to the money earned through collaboration with GlobeIn, Don Juan has increased his production and is saving to become a small business owner.
Suggested use: Employ as a colorful counter container for tea bags or coffee beans